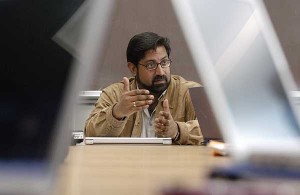 When you think of cell phones and mobile apps, the image of texting teenagers springs to mind.
But UW-Madison researchers are working to get mobile devices in the hands of a different generation, aiming to give an aging population a new way to access health and wellness information.
"The aim of this research is to help individuals live independently at a high quality of life" with the help of technology, says UW-Madison Maier-Bascom Professor Dhavan Shah.
Shah is working with specialists in engineering and health on new research to study the beneficial effects of technology in aging, cancer care and addiction. Working for the Center for Health Enhancement System Studies — known as CHESS — Shah and a team that works across disciplines are incorporating digital and mobile platforms in developing innovative health systems that optimize health behaviors, enhance quality of life, and provide valuable patient resources, especially for people over the age of 75 or living under at-risk conditions.
The center has a long history of providing information technology support for people dealing with chronic diseases. Over the last decade, it received two multi-million dollar grants to fund its research on breast, lung and colon cancer, funding the creation of the Center for Excellence in Cancer Communication Research.
The research has also explored how mobile support systems can help those struggling with substance use disorders, especially abuse of alcohol and opioids, by providing communication and interactive tools.
Shah points to a wide variety of ways the center has used mobile devices to directly benefit patients.
By offering a tailored smartphone application, patients have access to tips, guidelines and vital medical information relevant to their health condition, and they can receive health alerts and updates. By writing, talking and interacting with others, Shah says, people with chronic diseases will be able to better process their own thoughts and understand their conditions, promoting quality living and empowering them to better manage their own health.
Shah says one of the most important aspects of the app is its ability to foster positive relationships among individuals who are going through similar situations. Whether it is sharing input on medications or trading advice on how to reduce side effects, app users can connect with one another through social networks.
"It fosters supportive interactions among people that are going through the same exact things and creates a context where they're not being told by a physician or doctor, but rather by a fellow patient," Shah says.
The application also incorporates interactive tools. For example, it monitors what patients with colon cancer are eating or allows patients struggling with addiction to push a panic button and be connected with a counselor if they ever feel the desire to abuse substances.
Using mobile phones in monitoring patient activity and progress offers a range of benefits for users. When it comes to aging studies, smartphone applications can assess walking patterns and gait, use sensors to take heart rate and use GPS to plan optimal driving routes for elderly drivers.
GPS monitoring can also alert those in addiction recovery when they are near pre-programmed locations where they used or purchased substances in the past. The application responds by sending video alerts from the patient's child, friend or the patient themselves as a reminder of why they are seeking help.
To analyze the benefits of the mobile communication interventions, Shah and the rest of the team are using randomized clinical trials, which involve between 300 and 400 participants from a variety of health organizations and groups. All participants receive a smartphone, but only half receive the mobile app, allowing them to determine whether or not the system itself, rather than the mobile platform, is proving to be beneficial.
Shah says he plans to continue testing and assessing the effects of the mobile communication systems, with the eventual hope of making them available to the general public.
"So far, all of research shows that it is often not the information that we send them that is the most effective in terms of producing the types of outcomes that we care about, but rather it is the effect of using the system, expressing their own thoughts and providing support to others that tends to be empowering and produces the strongest health benefits," Shah says.
— Heather Laing