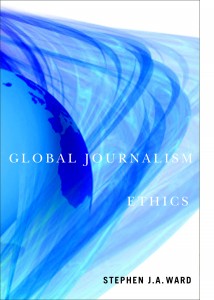 Professor Stephen Ward
McGill-Queen's University Press, 2010
Reformulating the basic aims and principles of journalism, Global Journalism Ethics offers a systematic philosophy for this new era of reporting news in a technologically connected age where stories and ethics cross borders. Stephen Ward argues that present media practices are narrowly based within the borders of single country and thus unable to successfully inform the public about a globalized world. The author extends John Rawl's theories of justice and the human good to redefine the aims for which journalism should strive and then applies this new foundation to issues such as the roles of patriotism and objectivity in journalism.
The book was among three finalists for Tankard Book Award from the Association for Education in Journalism and Mass Communication for best researched, original work in media scholarship published in 2010.