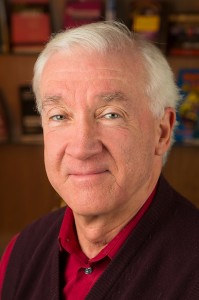 608-263-3393
slvaughn@wisc.edu

Stephen Vaughn's published scholarship deals primarily with the history of communication in North America and has covered such topics as the history and social influence of cinema and other new communication technologies, World War I and World War II propaganda, censorship, journalism history, and the nature of history.  His research draws on several disciplines including history, political science, journalism, literature, media effects research, and media law.  He is a winner of two Fulbright awards, one a Lectureship at Tashkent University in the former Soviet Union, the other a Distinguished Chair at Bologna University (which he declined).  He is former Vilas Associate Award winner at UW, and in 2008 was named an Alumni Merit Award Winner at Southeast Missouri State University.
Vaughn took his Ph. D. at Indiana University where he studied U. S. political, diplomatic, and intellectual history under his mentor, the prolific historian Robert H. Ferrell.  After teaching stints at the University of Oregon and Indiana, where he was Associated Editor of the Journal of American History and Acting Executive Secretary of the Organization of American Historians, Vaughn joined the UW faculty in 1981, and began moving his research and teaching into the area of history of journalism and modern communication.  His first book, Holding Fast the Inner Lines, examined World War I propaganda.  His book The Vital Past is a collection of essays on why history matters.  Soon after coming to UW, Vaughn began studying how cinema and other new media transformed American society.  His book Ronald Reagan in Hollywood, published by Cambridge University Press, explored the relationship between the film industry, politics, and a future U. S. president.
Since 2006, Vaughn has published Freedom and Entertainment: Rating the Movies in an Age of New Media (Cambridge), been Senior Editor of The Encyclopedia of American Journalism (Routledge), and published two major expansions of his online annotated reference, New Communication Technologies:  Their History and Social Influence (UW Libraries) (http://newcomm.library.wisc.edu).  He also the co-editor of Science in Print (with Greg Downey and Rima Apple), forthcoming from UW Press in 2012.  He is currently finishing a new book, Cinema and American Society before 1968, and has begun work on book about "Privacy and National Security since the 1960s."  Examples of Vaughn's current work, for which he has won research support, can be found at (ADD LINK).
In addition to the lecture course History of Mass Communication (J560), Vaughn teaches two graduate history seminars (J819, J919), and the historically oriented New Media and Society (J676).  He also teaches Intermediate Reporting (J335) and Interpretation of Contemporary Affairs (J404).  Vaughn has an affiliated appointment with the Department of History.
Vaughn's avocations include landscape and wildlife photography, handball (he has won three national titles), traveling, and cinema.