Omar Dumdum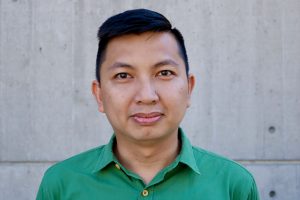 Omar Dumdum ("doom-doom") entered as a PhD Mass Communications student in 2017 and is double-minoring in Political Science and Global Studies.  His research focuses on the role of the news media in developing the culture of aid transparency within international organizations.  He also studies political communication in populist regimes.
Omar is currently a teaching assistant for International Studies 101.  Within the university, he has worked as an editor for the Institute for Research on Poverty and graduate assistant for the Institute for Regional and International Studies (IRIS).  For the past two years in IRIS, he assisted its different units, including the Middle East Studies Program, Center for Southeast Asian Studies, Hmong Studies Consortium, and the Arabic, Persian, and Turkish Language Immersion Institute (APTLII).
Before coming to UW–Madison, Omar was a consultant for Asian Development Bank, lecturer for U of the Philippines (UP)–Diliman and De La Salle University–Manila, and project/career staff for various national government departments in the Philippines.  He holds master's degrees in communication research (UP–Diliman) and development management (Development Academy of the Philippines), as well as a bachelor's degree in mass communication (UP–Cebu).