Cory Isaacson
Founder, Walton Isaacson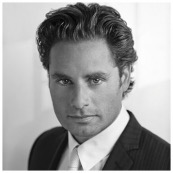 In the creative world of media, marketing and advertising, Cory Isaacson is a master of innovation and disruption, well known for cutting through traditional marketing silos and creating new ways of connecting with consumers that are changing the industry.
Over the years, Cory has been recognized for his groundbreaking work in pop culture, marrying Hollywood celebrities and Fortune 100 brands, including Diddy and Burger King, Budweiser and the Rolling Stones, Dove and Glee, Verizon and Kevin Hart, Axe "One Night Only" with 50 Cent, TI, Mary J. Blige and more.
Isaacson has always had a healthy disdain for the status quo. After succeeding in key leadership roles at notable agencies, such as Omnicom's Radiate Group and EMI (a Promo top 10 agency), he identified a need to reinvent the traditional agency model. Isaacson partnered with former Pepsi exec Aaron Walton and Earvin "Magic" Johnson to bring a new agency vision to life.
In 2005, Walton Isaacson, "The Planet's Most Interesting Agency," was born. A next-generation hybrid within the industry, Walton Isaacson blends the best of brand-building, advertising, diversity of thought and culture with a venture capital firm, creating brands such as Avion and Terremoto.
Isaacson, named an Agency Innovator by the Internationalist Magazine, is actively involved in the development of the Walton Isaacson vision, client strategy and brand creation. With offices in Chicago, Los Angeles, Miami and New York, the agency boasts a premium client roster, a top-notch team and dynamic growth. Clients include Lexus, Spalding, Miller Lite, Coors Light, McDonald's, Wells Fargo, Hillshire Brands and more. Walton Isaacson's unique approach has earned them PROMO's Pro Award, Ex Awards, Tellys, Effies, Davies and Stevies. A past Ad Age "Small Agency of the Year" and a Black Enterprise's "Advertising Agency of the Year," Walton Isaacson also was ranked one of the Inc. 5000 fastest-growing private companies in the U.S. and recognized by MediaPost's Marketing Automotive Awards with "Best Minority/Interest Group" campaign for its Lexus RX work.
While running his next-generation creative agency where he has co-executive produced the Verses & Flow variety series for Lexus and started a branded content division, Isaacson's entrepreneurial talents have extended to co-founding Avion, the fastest growing super-premium tequila. Not only did Avion become a major storyline in HBO's hit TV show Entourage, but it led to a guest appearance by Isaacson (in the role of a marketing exec) alongside Mark Cuban & Breaking Bad's Bob Odenkirk. Avion's success has become a Harvard case study and is often used to underscore visionary brand development and integration.
A graduate of The University of Wisconsin where he is a guest lecturer and a member of the Board of Visitors, Isaacson has a Bachelor of Arts in History. A sought-after speaker and advisor, he is also a member of the Economic Club of Chicago. He sits on the committees for Children's Hospital's "Champions for Children," SOS Children's Village, JDRF and "Skate for Celiac." He resides in Chicago with his wife and children.