Yangsun Hong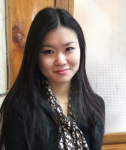 Yangsun is a Ph.D. candidate in SJMC with specialization in public health and gender sociology. Her research is centered on the ways communication improves health, eliminates disparities in health and wellness, and shapes public opinions about health and social issues affecting interpersonal communication and social actions.
She integrates social epidemiologic research with health intervention study using a health communication approach to clarify the ways in which structural and social environmental factors impact health prevention behavior, especially for marginalized groups. As a health communication scholar, she explores the ways in which mass media can be used to reduce the negative impacts of structural and social determinants of health on health prevention.
Her work also focuses on the mechanisms in which the persuasive messages interact with individual characteristics in shaping health risk perceptions, attitudes, and behaviors. She is also interested in the role of gender in shaping gendered communication networks and social and political communication.
Yangsun is a recipient of graduate research grants from Global Health Institute and Center for Research on Gender and Women at the University of Wisconsin-Madison for her project on intersectionality, social epidemiology and health behavior models.