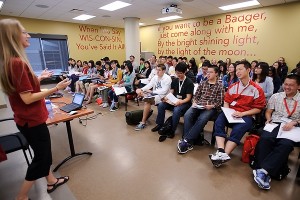 International Student Services (ISS) is your main resource on campus and has advisors who can assist you with visa, social and employment issues. Visit their website for more information at or to schedule an appointment.
All new international students attend the ISS Mandatory Orientation Program. This is required by both the university and federal visa regulations. At the orientation, new students will register their arrival on the F or J student visa and gain information on maintaining legal status while attending UW Madison. The orientation also offers information on how to get involved in ISS and campus programs, and how to take advantage of services available both on and off campus. Read more about the mandatory orientation.
The online  Guide for
International Students is a comprehensive and valuable resource for international students and is sent to international applicants initially when they apply for their I-20. The guide provides     appropriate resources and information on any of the following topics: obtaining a student visa, maintaining immigration status, academic/enrollment requirements for international students, and employment options for international students.
For information about student life, consult the following resources: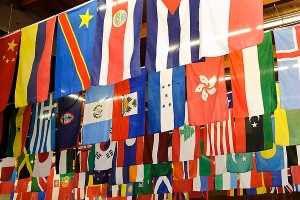 For information about dependents and housing, see these websites:
Sufficient Funds
International applicants are required to have sufficient funds to cover their expenses completely while attending the University of Wisconsin-Madison. Visit the Graduate School website for the most up to date information.
English Language Proficiency
Every applicant whose native language is not English, or whose undergraduate instruction was not in English, must provide an English proficiency test score. Your score is considered too old, and will not be accepted, if it is more than 2 years old from the start of your admission term. Country of citizenship does not exempt applicants from this requirement. Language of instruction at the college or university level, and how recent it has been, are the determining factors in meeting this requirement.
Applicants are exempt if:
English is the exclusive language of instruction at the undergraduate institution; or
they have earned a degree from a regionally accredited U.S. college or university not more than 5 years prior to the anticipated semester of enrollment; or
they have completed at least two full-time semesters of graded course work, exclusive of ESL courses, in a U.S. college or university, or at an institution outside the U.S. where English is the exclusive language of instruction, not more than 5 years prior to the anticipated semester of enrollment.
The required scores are:
Minimum TOEFL requirement: 92 internet (iBT);
580 paper-based test (PBT)
Minimum IELTS requirement: 7.0
Minimum MELAB requirement: 82
Under certain circumstances, and with program approval, admission may be granted with the following scores. However, as a condition for admission, an English assessment test (ESLAT) will be required upon arrival, and any recommended English as a Second Language (ESL) course must be completed successfully in your first semester. Below are the ranges in which an ESLAT will be required:
TOEFL paper based 550-579
TOEFL (iBT) 80-91
IELTS 6.5
MELAB 77-81
International Teaching Assistant Training
The ITA Training Program helps non-native English speaking TAs (or potential TAs) to improve their oral communication and classroom teaching skills. The program focuses on three areas essential to good teaching.
Pronunciation and Communication Skills: Language practice to make classroom speech more clear and effective.
Presentation Skills: Digitally recorded teaching presentations, tutorials, and peer feedback.
Cultural Background: Discussion of the TA's role, undergraduates' expectations of a TA, and the unique aspects of the US educational system.
In addition to regular class sessions, individual tutorials are scheduled to watch videotaped presentations. The course is offered every semester, fall, spring and summer. The course carries no credits. There are no fees and no required texts. A packet of material from a copy shop will be assigned.
The requirement for admission is a letter or email from the student's department identifying the student as a TA or a potential TA. Send admission request to Gail Ibele, ITA Coordinator at 263-3770 or gkibele@wisc.edu. Please include the student's email address and ID number. Confirmation will be by email.