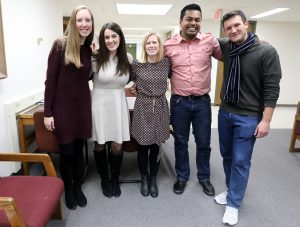 The professional M.A. typically leads to careers in news and information production. In collaboration with an advisor, students construct a program of required and elective courses that emphasizes in-depth coursework in a variety of nonfiction genres such as investigative reporting or literary journalism. This 30-credit degree should combine a mix of courses on practical communication skills, conceptual knowledge of journalism and mass communication, and an area of specialization.
Skills classes are a significant component of this program. However, a hallmark of the Wisconsin method of journalism education is that press theory and the role journalists play in society are given equal weight. The development of a specialty in journalism is a central component of this program. As such, all applications will be considered, however preference will be given to those seeking to pursue and build journalistic credentials within a specialty area in order to seek a job in the professional world.
This program is particularly well suited for people with undergraduate degrees in non-journalism areas seeking journalistic skills to enhance existing areas of interest or general assignment reporters who seek a specialization. Thus, applicants should have a strong notion of what kind of specialty they might want to pursue before enrolling and indicate that interest on the application.
To find out more, please contact professional master's degree program director Stacy Forster at stacy.forster@wisc.edu or graduate advisor Lisa Aarli at aarli@wisc.edu.
Program Requirements
Internships
Students are required to obtain an internship in a journalism related media company during the program. Credits and grades will be determined by the student's advisor, in conjunction with formal letters from the internship supervisor at the media company.
Students are guaranteed a summer internship at Madison Commons, our hyper-local online magazine.
Students funded through the David Maraniss Fellowship are eligible for a paid summer internship ($6,000 for the summer) with the Capital Times.
Students from underrepresented groups are eligible to apply for a paid summer internship ($6,000 for the summer) with the Wisconsin State Journal.
Students may also obtain, in consultation with the student's advisor, an outside internship at a media company.
Core Skills Requirements
Every professional-track student must take 12 credits of core skills in the School of Journalism and Mass Communication. Students may take more than 12 credits. In consultation with the student's advisor, students may be allowed to take eight credits in this section, avoiding J335. Otherwise, the only required course is J335: Principles and Practices of Reporting, which they will take in their first semester. In general, professional-track students will take J335 from the director of the professional-track program or a member of the SJMC's professional-track Committee. Courses that qualify for the other eight credits include: (all courses are four credits)
401: In-Depth Reporting
404: Interpretation of Contemporary Affairs
405: Creative Nonfiction
411: Multimedia Design
417: Magazine Publishing
420: Investigative Journalism
453: Media Relations Practice
455: Emerging Media and News
456: Long Form Video
475: Topics in Advanced Concepts and Skills
Journalistic Concepts Class Requirements
Every professional-track student must take at least seven credits of concepts courses that stress the relationship between journalism and major social institutions and publics.  This course will be selected with consideration of the student's specialty. Examples of concepts courses include 500- and 600-level courses like the following, as well as 800-level graduate seminars:
560: History of Mass Communication (cross-listed with History): 4 cr.
561: Mass Communication and Society: 4 cr.
563: Law of Mass Communication: 4 cr.
564: Mass Media and the Consumer: 4 cr.
565: Effects of Mass Communication: 4 cr.
616: Mass Media and Youth: 3 cr.
618: Mass Media and Political Behavior: 3 cr.
620: International Communication: 3 cr.
658: Research Methods: 3 cr.
662: Mass Media and Minorities: 3 cr.
669: Literary Aspects of Journalism: 3 cr.
Track of Specialty Study
By the end of their first semester, students should have chosen a track of study. During the first semester, students will have had an opportunity to sample a specialty that may intrigue them. Working with their advisor, students will design a program proposal that outlines the topic of interest, relevant coursework and overall goals for the program. A list of sample courses is available for our department's core specialties, including science, health and technology reporting, political and civic journalism, and international reporting. Students are not limited to these topical areas and can devise their own specialties. Students interested in personal finance reporting will take selected courses in the UW Madison School of Human Ecology Personal Finance Program.
Course Credits and Requirements
Master's professional-track students must complete 30 credits, but are encouraged to expand their timeline to fully develop a specialty by taking advantage of the school and the university's resources. These credits include the minimum of 12 core skills credits, at least seven journalistic concepts credits, and at least six credits in electives outside of the school. Students are expected to maintain a 3.25 cumulative GPA in all graduate work.
Final Portfolio
In lieu of comprehensive examinations or a thesis, professional-track students should have a developed portfolio with at least five significant, professional clips or projects (text, electronic, photography or multimedia) from classes, independent projects, freelance work or internships for presentation on the job market.
Program Timeline
Program proposal due end of first semester of coursework
Portfolio due at end of coursework, typically 3-4 semesters
Criteria for Satisfactory Progress
Master's students must earn a minimum 3.25 cumulative grade point average by the end of the second semester in residence and must maintain that GPA for the duration of the degree program. Grades in courses numbered 300 and above count toward the GPA.
Master's students who earn grades of incomplete must remove those grades in the semester following their occurrence. A request for a waiver of this rule may be granted in rare cases. Waiver requests should be submitted to the Journalism and Mass Communication Graduate Committee.
Master's students must maintain steady progress toward completion of the degree.  Full-time master's students can expect to spend 1.5 to 2 years earning the degree. The time to degree completion varies for part-time students.
Master's students must satisfy all Graduate School degree requirements.
The Journalism and Mass Communication Graduate Committee constitutes the review board for the M.A. degree. The review board is charged with final decisions regarding satisfactory progress. A review is made of each student's progress at the end of each semester and, in cases where student performance has not met satisfactory progress criteria, a letter is sent to the student and faculty advisor. Students who receive this letter have a maximum of four weeks to provide a written response concerning any special reasons or circumstances relevant to their failure to meet the satisfactory progress criteria. The review board will examine all cases involving lack of satisfactory progress to determine appropriate action. A finding of unsatisfactory progress by the review board may be grounds for a one-semester probation, suspension of funding (if applicable) or dismissal from the graduate program, at the review board's discretion.
Please review the M.A. Handbook for specific policies and procedures.