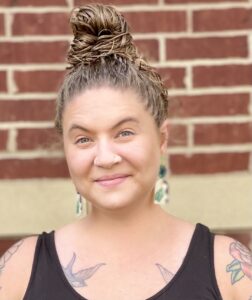 Name: Erin McGroarty
Expected Graduation Date: May 2023
SJMC is proud to have some of the most outstanding students anywhere. From reporting on local events to investigating national issues, J-Schoolers are making their mark on the world and living out the Wisconsin Idea. One such J-Schooler, Professional M.A. student Erin McGroarty, was recently accepted to the National Association of LGBTQ Journalists' (NLGJA) CONNECT Scholar program. We caught up with Erin to hear more about her and what she hopes to do after graduation.
Tell us a bit about the CONNECT Scholar program and what you're most looking forward to.
The CONNECT Scholar program is a student journalist training and leadership program organized and run by the NLGJA: The National Association of LGBTQ Journalists. This week-long program provides student journalists and post-grads like me the opportunity to learn from more experienced journalists from legacy organizations like the AP, New York Times and NPR, among others, and the opportunity to attend the annual NLGJA Convention. The cohort of 10 students will also produce coverage of the convention – to be held this year in Chicago – as well as larger issues facing LGBTQ journalists these days.
I'm most looking forward to the opportunity to network with other queer-identifying journalists from across the country and discuss ways we can improve equity both in the newsroom and in journalism itself.
What is the focus of your reporting in your recent or current work?
Prior to entering the professional-track master's program at UW Madison, I worked for more than three years as a policy and government reporter for a daily newspaper in Interior Alaska. During that time I covered myriad topics ranging from Alaska's state government and national congressional delegation, climate change, social justice, higher education and the COVID-19 pandemic. When I began the program here I wanted to use it as an opportunity to focus in on how policy affects people – most specifically individuals who are often left out of coverage. As I began exploring this concept, I found my reporting over the last year exploring issues of incarceration and policing, often through the lens of gender and neurodiversity. My most recent bylines in this area have been featured in the Capital Times and the Poynter Institute.
Have you received any other awards or honors?
In 2019, I was one of about three dozen women across the country accepted into the Reynolds Journalism Institute's Women in Journalism Conference. I have also received recognition by the Alaska Press Club and Alaska Professional Communicators for my coverage of climate change policy and the effects of state budget cuts on social safety nets.
What types of jobs are you looking for after graduation?
I would love to work for a non-profit news organization like the 19th News or the Marshall Project where I could continue exploring issues relating to incarceration and policing.
Any other fun facts you'd like to share?
I am currently learning conversational Spanish and perfunctory Arabic.