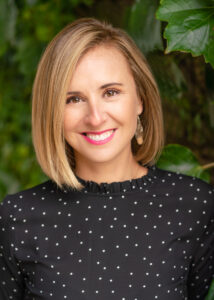 Name: Aimée Eichelberger
Title and Organization: Founder & CEO of Superior Public Relations
Graduation Year and Degree: 2002 B.A. in Journalism
J-School alum Aimée Eichelberger has had an impressive career in both the reporting and strategic communication worlds. She was recently featured in Sheridan Road Magazine highlighting her career journey and the work she's doing now. We caught up with her to hear about her advice for J-Schoolers who want to work in the world of public relations.
When it comes to your career, what are some things you are most proud of?
I've been fortunate to have a very dynamic career that has spanned two incredibly fulfilling and exciting industries — TV news and tech-focused public relations. I'm proud of different aspects of both — in news, I really pushed my comfort zone including moving away on my own and immersing myself in new communities. I focused on listening but also learning from the people I was covering. In PR, particularly tech PR, I've learned the nuances of complicated technologies and how to make their stories resonate with broader audiences by serving as an extension to the companies we're representing and digging in to really understand it. Ultimately though, I'm most proud of building an agency that focuses on quality work and quality work-life balance. It's not always easy to come by, but it's vital and results in better output for our clients and a much happier team.
What advice would you give to a J-Schooler who wants to do what you do? 
As a J-school student, I think it's important to embrace all parts of journalism because they can fuel different aspects of different industries and make for a more well-rounded professional. That is especially true for public relations and news. When PR pros understand how news reporters work, think and write, they can better support them and deliver stories that are of interest. In addition, I'm a firm believer that writing is the key to opening more doors. Learn to write, hone your craft and keep working on it.
When we say "J-School" what do you think of?
I knew I wanted to be part of the UW-Madison journalism school the second I stepped foot on campus. I dreamt of being a journalist from the time I was young and was steadfast in making it happen once I got to Madison. That said, I wasn't a shoo-in and actually wasn't accepted the first time I applied to the journalism school. As devastating as it felt at the time, I worked harder, did not give up and got in the second time around. It's definitely a memory that stands out for me because that's how you must approach many aspects of building and growing your professional career — tenacity, hard work and persistence pays off.