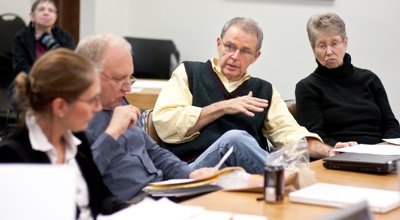 Graduate faculty members Jo Ellen Fair, Bob Drechsel, Al Gunther, and Sharon Dunwoody (left to right) deliberate during a departmental meeting.
The Graduate Program in the School of Journalism and Mass Communication draws students interested in intensive examination of mass communication as they prepare for careers as university teachers and researchers or professional communicators.
The School of Journalism and Mass Communication is internationally recognized in several areas of research and teaching, including:
civic and political communication
health, environmental, and science communication
history of media institutions
information technologies, social networking, and digital media
international, inter-cultural, and intra-cultural communication
law and ethics of media
processes and effects of mediated communication.
Graduate students in the School of Journalism and Mass Communication have the opportunity to collaborate with faculty members who are among the most prolific and most frequently cited researchers in the world and be part of a student community that has been among the most productive among their peers at other mass communication programs.
The School of Journalism and Mass Communication offers a Ph.D. in Mass Communication, jointly administered with the Department of Life Sciences Communication; a Research M.A. and a Professional M.A. The degree programs are flexible and well rounded, providing breadth and depth. There are no specific course requirements for doctoral students and they can develop programs to meet specific research interests. For M.A. students, there are minimal requirements but plenty of opportunity to develop specializations.