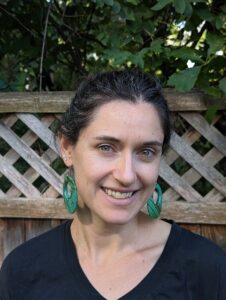 Name: Lynne Cotter
Expected Graduation Date: May 2026
The J-School prides itself on being one of the best places in the world to study and research communications. Our faculty and graduate students work tirelessly to push the boundaries of their fields forward and produce industry-leading research. Ph.D. student Lynne Cotter is one such graduate student whose research focuses on health technology communication. Lynne recently received the Top Poster Award from the AEJMC Communicating Science, Health, Environment and Risk (ComSHER) Division for her work exploring flu vaccination promotion to the elderly. She shares more about her research and the award from AEJMC.
Tell us a little bit about this award from AEJMC and your poster project.
The award is from the Association for Education in Journalism and Mass Communication, Communicating Science, Health, Environment and Risk (ComSHER) Division for a paper entitled "Are interactive and tailored data visualizations effective in promoting flu vaccination among the elderly? Evidence from a randomized experiment." Sijia [Yang] and I conducted this experiment during winter break 2022-23. This is the first poster I've done during my degree here and I tried to make it highly engaging, using a killer (scientifically proven) color scheme, making it as visual as possible with diagrams instead of blocks of text. I feel like I cheated a little because I took an excellent class called Information Visualization from Dr. Karen Schloss (Psych 711) and we learned how to make amazing posters. At the conference itself, it was quite engaging to talk with other scholars about this work. I got a few good ideas about where to go from here, and some great references and connections.
What is the focus of your research and dissertation?
I'm interested in how people use health information, particularly public health and personal informatics, to make health decisions. This line of research is about data visualizations and how they can be made to provide relevant information. I also work with the Center for Health Enhancement System Studies (CHESS) to look at how people use apps to think about their health and the ways that self-tracking (personal informatics) can improve or impede that process.
What types of jobs are you looking for after graduation?
I'm aiming for a research faculty position. I love careers that involve continual learning and sharing of information, and the academy certainly does that well.
Any other fun facts about yourself or your research that you'd like to share?
My favorite part of doing a poster or paper is creating the graphics and figures and, in another life, I'd be a graphic designer.