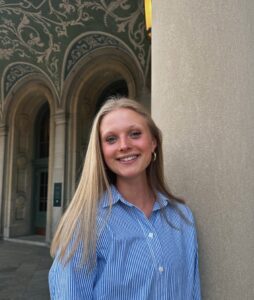 J-School senior and UW Center for Journalism Ethics fellow Audrey Thibert is the inaugural recipient of the Anthony Shadid Memorial Scholarship for International Reporting and spent her summer carrying on Shadid's legacy in Tunisia as a Pulitzer Center Campus Consortium Reporting Fellow. In the following article, Thibert shares what the Shadid scholarship and time in Tunisia meant to her.
"In the rituals of burial, the men and their families tried, futilely, to escape the questions that have enveloped so many lives here in fear and uncertainty. Beyond some neighbors, family, and a visitor, there were no witnesses; the funeral went unnoticed by a government that has eagerly escorted journalists to other wartime tragedies. Instead, Daif and two cousins were buried in the solitude of a dirt-poor, Shiite Muslim neighborhood near the city limits." – Anthony Shadid, reporting on a U.S. missile strike in Iraq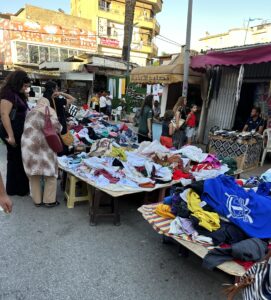 This paragraph, published in a 2003 Washington Post article, stands out to me as an example of how Anthony Shadid used his writing to entwine beauty with tragedy, explaining clearly the situation at hand and transporting the reader to the scene.
I never met Anthony Shadid. But I hear his voice in his writing, and I feel his legacy in the people he left behind. As the inaugural recipient of the Anthony Shadid Memorial Scholarship for International Reporting, I feel lucky to be a part of the community honoring and continuing Anthony's work.
He lives on in the people who love him. Laila, his daughter who is full of a spunky charisma, has become a close friend and role model to me. I look up to her both morally and professionally—her commitment to Palestinian human rights and the delicate way she interweaves that advocacy into her journalism shows her skill and her heart.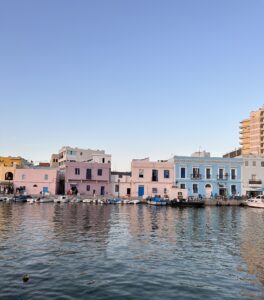 I met Laila at the 2023 Shadid Award Ceremony in New York, a seminal event in my journalism career but also the night I fully grasped the strength of Anthony's continued impact on those who love him. Katy Culver, the iconic and kindhearted Director of the J-School, told attendees her favorite Anthony story and did the hard job of encapsulating in words how Anthony lives on at UW.
It was also that night that I became wholly inspired and ready to go to Tunisia as the 2023 University of Wisconsin Pulitzer Center Campus Consortium Reporting Fellow and Shadid Memorial Fund Recipient.
I arrived in Tunis in early August, sleep-deprived from travel, yet wide awake from excitement. I started interviews the next day. Throughout the following two and a half weeks, I interviewed Tunisians who had tried to migrate to Italy in a two-person kayak, Tunisians who wanted to leave the country but couldn't, Ivorian salon workers who help reunite Black Tunisians with their lost culture, Nigerian migrants living in temporary migrant camps and others. I traveled primarily between the capital city of Tunis and the northern city of Bizerte.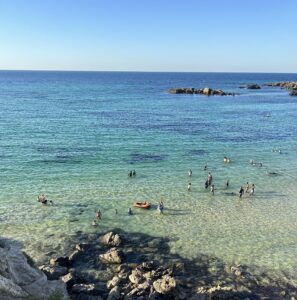 Along the way, I established deep friendships with a trio of goofy college-aged kids— Lina, Kaabi and Adem. Before my trip, I had prepared for the unexpected as best as I could, but I never predicted finding such love in strangers turned to friends. One of the beauties of journalism is the beauty of people — interviewees in migrant camps, patient translators who will sit for hours in a salon to get a story, chatty café owners who let me go on a motorcycle ride around the city. And close friends who I still talk to daily.
I decided, in the end, to write three intimate profiles of people I interviewed. I felt their voices and their stories could add more to the narrative than a harder, investigative piece.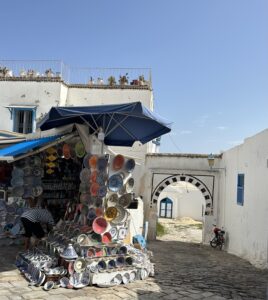 I was encouraged to apply for this scholarship by Krista Eastman, my advisor at the UW Center for Journalism Ethics whose deep knowledge of journalism encourages high quality work and whose deadpan comments and contagious laugh make for fun weekly meetings. I am so thankful for her oversight and her encouragement.
As journalists, we are often faced with ethical crossroads that don't offer one clear path forward. 
In Tunisia, I saw such sadness within an even greater beauty. I grappled with balancing my duty to tell the hard stories with honoring a place I had found community, adventure, and fulfillment.
"Maybe you can have both," Laila told me on a WhatsApp call from the West Bank.
We talked of the importance of telling stories that wouldn't otherwise be told. Of centering the voices who wouldn't otherwise be heard. And of showing the beauty that wouldn't otherwise be seen.
I know Anthony saw beauty despite sadness in the places he reported from. And I know he found truth.
If you are interested in contributing to the Anthony Shadid Memorial Scholarship, please visit this page at the University of Wisconsin Foundation.