Good journalists are powered by curiosity. When it came to the long overdue induction of J-School alum Bob Teague (BA '50) into the UW Athletic Hall of Fame, it turned out journalism professors are propelled by the same thing. 
Emeritus Professor James Hoyt had long known of Teague's accomplishments on the field and in the newsroom, as well as Teague's position as the first Black player to start for the UW-Madison football team. So he was curious why he didn't see Teague's name in the Hall of Fame.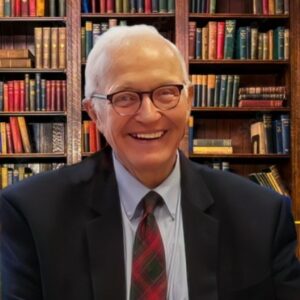 "A couple of years ago, when they announced recipients for the Athletic Hall of Fame, I wondered when Bob Teague was inducted," Hoyt said. "I discovered that he had not been so I started doing some research. This is something that's been an omission."
Hoyt joined the J-School faculty in 1973 and spent 29 years teaching courses in broadcast and electronic journalism and journalism ethics. During this time, he also served as the chairman of the UW Athletic Board and as Wisconsin's Faculty Representative to the NCAA and the Big Ten Conference from 1991 to 2000.
"Journalism and athletics defined much of my career at the university," Hoyt said.
In 1969, Hoyt, a Ph.D. student at the time, was introduced to Teague, a J-School alum who was in town to receive the Distinguished Service Award for his outstanding work in journalism. The two later crossed paths at NBC News and while Teague's athletic accomplishments on the football field were rarely mentioned in conversation, Hoyt was always curious to see how the university honored him.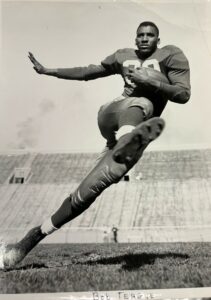 Hoyt's research led him to discover that Teague was the first Black player to start for the Badger football team in 1949. However, despite his talents, Teague spent three years sitting on the sidelines of the junior varsity team because of the color of his skin. It wasn't until his family retained a lawyer who put pressure on the university to look into why a talented young athlete was sitting on the bench that Teague would finally step onto the field. The new head coach at the time, Ivy Williamson, recognized Teague's talent and gave him his chance. Teague grasped that chance and ran with it. That year, he led the team in rushing yards and touchdowns and was named second-team All-Big Ten.
"He was a trailblazer," Hoyt said. "He went where nobody else had gone before. That really resonated with me. I thought 'this guy's worthy of the Hall of Fame if for no other reason than that and what he accomplished in his fairly short career.'"
Hoyt's research began with trying to find the man himself. He quickly discovered that Teague had passed away in 2013 and tracking down Teague's living descendents would prove to be a more involved task than Hoyt had planned.
"I put on my old investigative reporter hat and went to work. I went through a variety of sources, most of which didn't do me any good," Hoyt said. "But I eventually scored a hit with Adam, [Teague's] son, and I learned that he is [Teague's] only living relative. Adam was fortunately very impressed by this effort that I was undertaking and was willing to participate in it."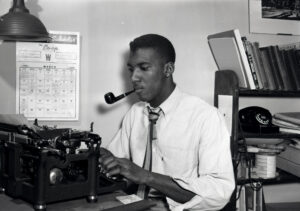 In addition to securing support from Teague's family, Hoyt also compiled many testimonials to support his nomination.
"The testimonials that I've gotten for Bob Teague from a whole variety of people on the faculty and in the African-American community and in Athletics have been just overwhelmingly powerful," Hoyt said. "It ended up being a much stronger case than I even anticipated it would be."
Hoyt's curiosity eventually paid off when the UW Athletic Hall of Fame induction committee approved Teague's nomination. The approval and acknowledgement of his endeavor meant the world to Hoyt.
"It was overwhelming. There was an injustice that had been corrected," Hoyt said. "I have a strong interest in journalism and broadcasting in civil rights and race relations and that all came together in this one case. I only wish Bob was still alive and could be here, but I'm glad his son Adam will be."
Bob Teague will be officially inducted into the UW Athletic Hall of Fame on Friday, September 15. You can read more about Teague's incredible legacy on the UW Athletic Hall of Fame website.