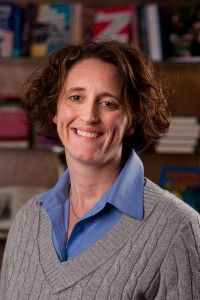 608-263-3397
robinson4@wisc.edu
http://mediatrope.wordpress.com

An associate professor, Sue Robinson joined the UW-Madison faculty at the School of Journalism & Mass Communication in January 2007. As a scholar, she explores how journalists and news organizations adopt new information communication technologies to report on public affairs in new forms and formats as well as how audiences and individuals can use the technologies for information processing and democratic engagement. Central to her work is the consideration of information flow as it moves through specific media ecologies and networks at the local community level.
In her work, she questions: How does the strategic use of new-media technologies change the ways we learn about and interact with each other through news? Who exerts authority over information during the adoption of new technologies, and how are people feeling empowered by or excluded from civic, cultural and professional conversations because of ICT introduction? What does this mean for the press – an institution central to democratic deliberation and community life? She investigates these questions via newsroom observation, in-depth interviews of journalists and citizens, and textual analyses of mediated content.
She has maintained three intersecting lines of inquiry: issues of organization via press theory, concerns of audience via citizen journalism, and interpretations of content via collective-memory work. First, she has documented the evolving institutional role of journalists in American society tied to labor changes, organizational shifts, and cultural transformations because of digital media. Second, she has explored the new capabilities of audience members to influence the news story and participate in the process of newsgathering through blogs, forums, and other forms of interactive features online. Third, she has focused on how the news stories that are produced and published as collective memory – the collaborative, public creation of shared remembrance of national events typically created by the news media – are being reshaped during this digital evolution.
Her work includes a comprehensive, multi-year newsroom ethnography and corresponding in-depth audience study that led to a recently published monograph in Journalism and Communication Monographs as well as numerous articles and book chapters. Her work has been published in Journal of Communication, New Media & Society, Mass Communication & Society, Journalism, Journalism Studies, Journalism Practice and Convergence, among others. Most recently, she received the Maier Faculty Development Endowment Award and the Krieghbaum Under-40 Award.
Robinson is the co-director of the MA professional-track journalism program for the School. In addition, she has served as an officer in the Communication Technology Division of the Association for Education in Journalism and Mass Communication and is the former head of the Graduate Education Interest Group for the same organization.
A former business, technology, agriculture and seafood writer for a dozen years, Robinson earned her BA in journalism from the University of New Hampshire in 1994, her MA in journalism from Northeastern University in 2000, and her PhD in mass media and communication from Temple University in 2007.
Robinson teaches news reporting and production, multimedia and social media, press theory, qualitative methods and other classes.