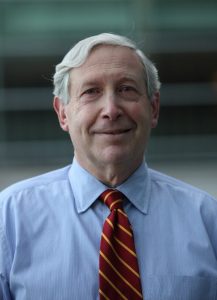 Summer Advanced Journalism Workshop with Former USA Today Editor Owen Ullmann
Students this summer have the opportunity to take a course with Owen Ullmann, a very accomplished alumnus of the School of Journalism and Mass Communication.
The four-credit course it open to all undergraduate students who have had some journalism coursework including J202. It will run from June 10 to July 7 and meet from 9 a.m. to 1 p.m. Monday, Tuesday, Wednesday and Thursday of each week. Students may register here.
Ullmann will be teaching J475: Advanced Journalism Workshop. This is an advanced reporting and writing class that builds on the foundations established in other journalism courses. The course will focus on how to find compelling story ideas, report them out, organize material, add valuable context and structure different types of stories. They will range from short news accounts to narrative features to opinion pieces. This course will be run much like a newsroom, with the instructor serving as managing editor to the student's roles as reporters and writers. The course is design to help ground students in journalism fundamentals, help students develop viable story ideas and offer advice on reporting and writing. Active and retired journalists will visit as guest lecturers in person and/or remotely to spark discussions and help student's master key techniques to good reporting and writing.
Ullmann is the executive editor of the International Economy Magazine. From 1999 to 2019, he held a variety of senior management and editing positions at USA TODAY, including managing editor for special projects. Prior to joining USA TODAY in 1999, Ullmann worked in Washington, D.C., covering economics, politics, foreign affairs and the White House for Business Weekmagazine, Knight-Ridder Newspapers and The Associated Press. He has won two awards from the White House Correspondents' Association for coverage of President Reagan. He received his master's degree in 1973 from the School of Journalism and Mass Communications at the UW-Madison, which has twice honored him with awards for distinguished journalism.