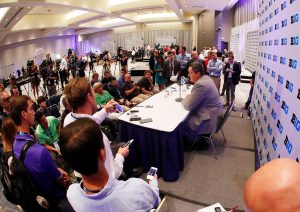 On April 18, 2019, the UAPC approved a 12-credit Sports Communication Certificate program affiliated with the UW School of Journalism and Mass Communication. The certificate program is open to both journalism majors and non-majors, providing students with skills training in the areas of sports journalism and broadcasting, sports marketing communications and coursework in sports, media and society.
This summer, students can get started in this certificate program by taking one or both of the following courses:
J150: Introduction to Sports Communication, Online only: June 17 – Aug. 11
J350: Sports Marketing Communications,12:05-3:15 p.m. MTWR: May 28 – June 16
For more information about the Sports Communication Certificate program or courses, contact Professor Douglas McCleod at dmmcleod@wisc.edu.
For full descriptions of these courses and our other summer offerings, visit our Summer Term 2019 course description page.