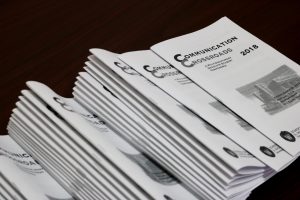 Communication Crossroads is a graduate student conference in the School of Journalism and Mass Communication. This is a chance for emerging scholars to share research, give feedback and hone presentation skills in a welcoming environment. See how colleagues and potential collaborators from cross campus are engaging issues of media, communication and society. All are welcome to attend the conference, held at the University Club on the UW–Madison campus.
Call for papers: Communication Crossroads 2019
Researching media studies? Political consumption? Online social networks? Marketing? Framing? Civic engagement? Media history? Communication in any context? Graduate students from all disciplines are invited to submit abstracts for the upcoming Communication Crossroads conference.
Conference Details:
March 8, 2019 9:00 a.m.-5:00 p.m., University Club, 803 State St., Madison, WI.
DEADLINE EXTENDED – Abstracts due 11:59 p.m. February 12, 2019
Abstracts are limited to 350 words
Abstract should provide a clear scope of the research topic, study rational, methods and main findings.
Anonymize your abstract (i.e., no author information).
Papers must be student led. Faculty coauthors are acceptable.
Submit abstracts to the following email address: jschoolgradconf@gmail.com, by February 12.
In the email message, you should include the following details:
Full name and affiliation (of coauthors as well)
Five key terms for your paper (e.g., social media, experiment, activism, health, peer influence)
Please email jschoolgradconf@gmail.com for full abstract and paper guidelines, or to submit your abstract and paper. Acceptance/rejection notifications will be sent out by Feb 25. If your research is accepted, you will be asked to submit a full paper by March 1.
For further information, please contact the committee via the above email address.