The journalism school lost a lion this morning.
With exceptional sadness, we share news of the death of Jim Baughman — treasured teacher, exacting colleague, committed friend.
Jim died from lung cancer at Agrace Hospice and Palliative Care in Fitchburg on Saturday, March 26, 2016. He was 64.
He taught so many of us to write — with clarity and without cloying sentiment. Yet we cannot let this moment move past without noting that 64 years were far too few. It is shocking, and it is difficult.
Jim is survived first and foremost by his wife and soulmate Mickey Michuda, herself a J-School graduate, and his family. He further lives on through the students he has taught, the colleagues he has mentored and the lives he has leavened through humor, good will and a sense of history.
Known for his quick and nimble wit, Jim would be "mad as a wet hen" at any overt sentiment expressed here. But it's important to note the many sparks of goodness he brought and the many accomplishments he achieved.
Unlike all the others in the department, Jim's curriculum vitae notes his pre-college life, a nod to his commitment to documenting history. The first line states:
"Born, 10 January 1952, Warren, Ohio."
And the second line, for education:
"Warren City Schools, Warren, Ohio."
Jim was a product of that Ohio upbringing. He pointed to it consistently, highlighting that a Harvard-educated man was better off if he had been raised in the Midwest.
Jim's education was a point of pride. Never a point of false pride, but an achievement nonetheless. He had a Harvard tie, enjoyed the club when he visited New York City and never stood shy when anyone tried to assert that mass communication research was anything short of essential in the liberal arts.
After earning his doctoral degree in history from Columbia University, Jim came to Wisconsin in 1979, first as an instructor and then as an assistant professor in 1981. He earned tenure in 1985 and the rank of full professor in 1990. Jim led the J-School as its director from 2003-09, including our Centennial year in 2005. Two of his favorite moments on this campus came when he earned the Chancellor's Award for Excellence in Teaching and the Ciriacks Alumni Outreach Excellence Award.
He had a remarkable career studying the history of communication and its effects on society, including four books exploring intersections of culture and mass media, particularly broadcasting. He was at work on a fifth this year.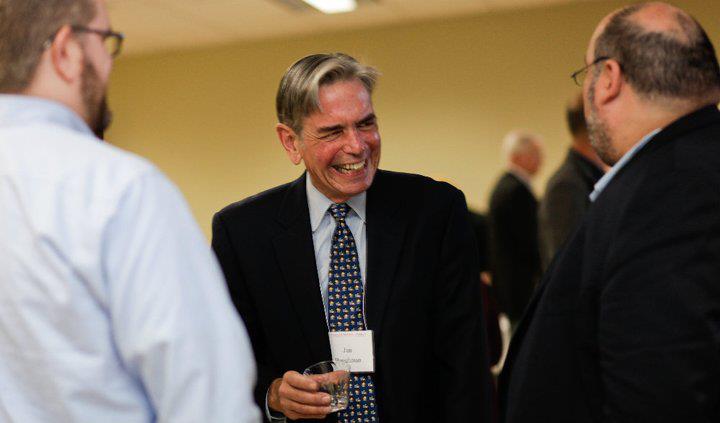 "Jim was not just one of the country's experts on the recent history of journalism, but was also a revered colleague and teacher," said Sharon Dunwoody, a longtime member of the J-School faculty. "He nailed one teaching award after another over the years, and he also applied his powerful intellect and keen wit to interactions with others on campus. Jim was a singular person whose absence will leave a hole in the fabric of academic life at this university."
That hole is felt most acutely in Jim's role as teacher. His courses included Mass Communication History, Interpretation of Contemporary Affairs and Literary Aspects of Journalism.
"Those are all high-minded titles," said Katy Culver, a J-School colleague who also had Jim as a professor during her undergraduate studies. "But Jim made every subject relatable. He commanded respect and demanded excellence, yet he never let the work seem out of reach. Through him, his students came to believe in themselves and deliver their very best."
Legions of those students will remember Jim in their own ways, and we encourage you to share your thoughts with us on our Facebook page and via #baughman on Twitter. That hashtag would have amused Jim, who once told us his definition of "multimedia" equaled an IBM Selectric typewriter and chalk.
For those of us on the 5th floor of Vilas Hall, today is one of shock and sadness.
"I don't think there's colleague on the floor who hasn't found a press clipping in their mailbox or an email about an issue we talked with Jim about the day before — or even three or four months ago," says Hemant Shah, our director. "He was generous. He took interest in his colleagues' work. He listened and remembered. That made Jim unique."
And that is the word we will hold close: Unique.
Henry Adams once wrote, "A teacher affects eternity; he can never tell where his influence stops." We can say of Jim that his influence will not stop. His students carry forth his lessons. His friends honor his commitment and thoughtfulness. And his colleagues will continue to serve as he did — with principle, with vigor and with a sense of both history and the things yet to come.