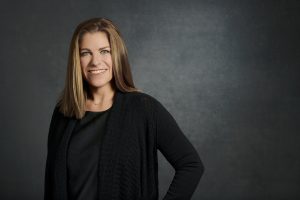 Longtime supporter and current School of Journalism and Mass Communication Board of Visitors member, Kim Kelleher (BA'93) has established an internship fund to support rising juniors and seniors in the journalism and strategic communication fields.
Kelleher has worked at some of the world's most influential publications, including SELF, ELLE, Glamour, TIME and GQ, among many others, and is now the president of commercial revenue and partnerships for AMC Networks. In 2007, Kelleher was inducted into the American Advertising Federation's Advertising Hall of Achievement and was named Advertising Age's Publisher of the Year in 2011. Throughout her career, Kelleher was inspired by the talented journalists and writers she encountered, leading her back to UW-Madison and the J-School.
"After spending 20 years of my career working with journalists and writers at media brands from ELLE to WIRED to GQ and Sports Illustrated (and many more), I was introduced to the J-School when I became Global Publisher of TIME Magazine in 2010," Kelleher said. "The depth of my respect for journalists and their trade knows no bounds."
For students hoping to pursue a career in journalism or strategic communication, internships are often the best way to experience the day-to-day reality of a job as well as get a foot in the door within the industry.
"Internships are a fantastic way to sample a future career opportunity," Kelleher said. "They give you a foundation for entry-level employment and allow you to get a sneak peek into the culture and people of a prospective employer."
However, many internships are low-paying or unpaid or require students to relocate for the duration of their internship putting undue financial strain on students and their families. Kelleher hopes to ease that burden by providing support for passionate interns.
"My hope is that the internship fund facilitates opportunities for rising juniors and seniors to follow their journalism and mass communications pursuits and dreams," Kelleher said.
Through her more than 30-year media career, Kelleher has recognized the importance of building connections and relationships to get ahead and the challenges of landing a job without them. This inspired her to give back to current UW students hoping to land their dream jobs.
"Being from a small town in Wisconsin (Sister Bay), I had no connections to the media world in New York City; I had to boot-strap," Kelleher said. "In starting the internship fund at the J-School, I hope to help facilitate that connection for students so that they can jump-start their journeys."
Kelleher hopes that her philanthropy will leave a lasting impact on J-School students and ensure that they are just as passionate and excited about their careers as she is.
"After 30-plus years in media and over a dozen roles, I can honestly say I have never had a job I did not deeply enjoy or learn from," Kelleher said. "It has been such an exciting and fulfilling profession. I love having an opportunity to help bring in the next generation of talent."