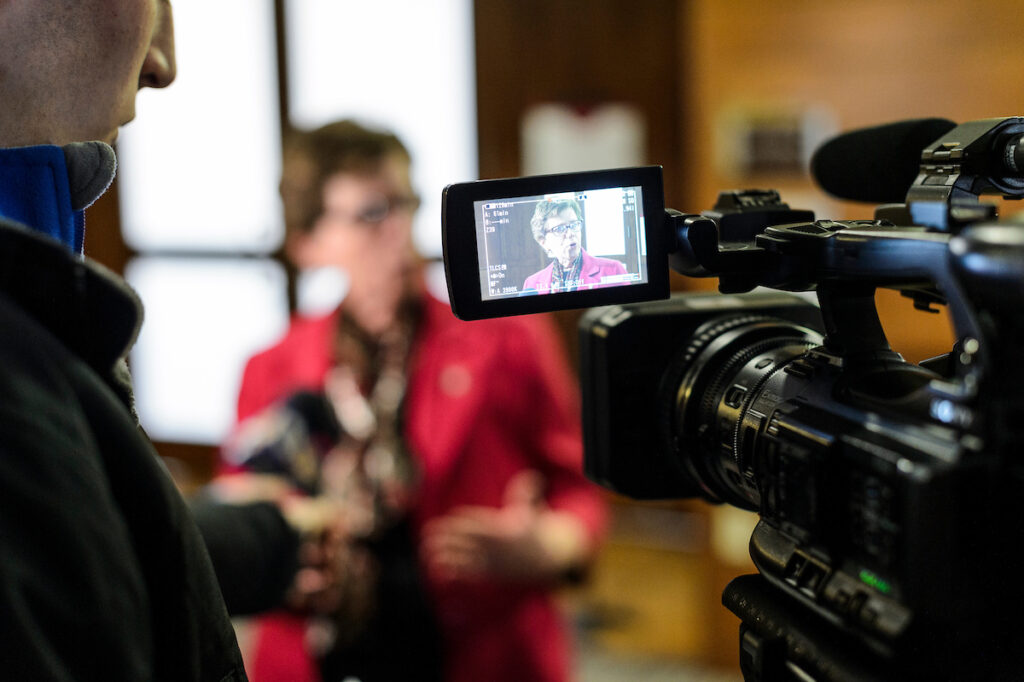 By Emily Knepple 
This fall, J-School students have the chance to take J475: Creative Campaigns and Video Production, a new course brought to the curriculum by Evjue Centennial Professor Doug McLeod.  
J475 builds off of J445: Creative Campaign Messages, a class McLeod has taught for over 10 years. "J445 is a strategic communication class that focuses on the creative sides of the campaign," said McLeod. 
J445 is set up in two halves. For the first half of the semester, students practice training exercises with hypothetical clients, then turn their attention to working with real life clients. 
Recently, McLeod has teamed up with UniverCITY Year, an organization that is committed to bringing "faculty, students and members of Wisconsin communities together to address local challenges through engagement, university research and state-of-the-art problem-solving approaches."
McLeod said this partnership is a good opportunity for both students and clients. In the age of social media, students are able to bring their own knowledge and talents to the people they work with. 
With a growing emphasis on social media, McLeod admits that TV production eventually got squeezed out of the course, due to time constraints. 
"TV and video production lost its place in 445." McLeod said. "Last spring I was on sabbatical, and I thought I would really like to replicate 445 but with a focus on video."
J475 was created from that idea. The course has a similar structure to that of J445, with students spending the first half of the semester building their skillset and participating in training exercises. Students will practice video editing, storyboarding, script writing and how to shoot video. Students will gain skills to help them create 30-second TV spots to five minute streaming videos. 
J-School senior Ryan Marks, who is on the strategic communication track with a specialization in graphic design, is currently enrolled in J475. Marks says he was initially attracted to the course because of his interest in sports media and the rising popularity of video-based content within that industry. 
Marks said that the course assignments are challenging but overall, very fun to complete. "I've never had that in a class before where it's genuinely fun to sit down and have that creative process in front of you for a grade," said Marks. 
So far, students have already had a fair share of engaging things to work on. Marks spoke about an assignment where students had to pick a brand, complete a brand analysis and then write a commercial script encompassing a big idea. 
"I chose Miller Lite, and the main idea was that Miller Lite salutes all the people that do their best work when no one is looking," said Marks. This is just one example of the ways J475 requires students to put their skills into action and practice as a real professional. 
At the end of the semester, Students will work with the UniverCITY Year program. 
"The UniverCITY Year program wants to have videos to promote the work that they do," added McLeod. With a wide range of anticipated messages to funders, donors and even legislatures to encourage enthusiasm about the program, students will put what they've learned to the test. 
Another aspect of the course includes bringing in UW-Madison alumni to discuss their own careers in the industry. "These are distinguished professionals; people that work in video production, people that direct, people that produce," said McLeod. 
With engaging classwork, insightful guest lecturers and a specific focus on the design and production of video messages for strategic communication campaigns, students enrolled in J475 will gather a new, enhanced toolbox of skills.