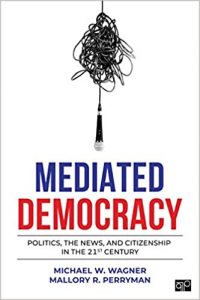 UW-Madison School of Journalism and Mass Communication Professor Michael Wagner and VCU Richard T. Robertson School of Media and Culture Assistant Professor and UW SJMC graduate alum Mallory Perryman have published a new book, Mediated Democracy: Politics, the News and Citizenship in the 21st Century.
The book discusses important issues regarding the health of democracies and relationships between citizens, journalists and political elites. Their approach combines research with practical advice, demonstrating the impact of the insights of scholarship on students' lives.
"We set out to write a book for use in upper-level courses related to communication and democracy," Wagner said. "In addition to the academic content and contemporary examples, we provide two features in every chapter: 'DIY Research' and 'How Can I Help?' 'DIY Research' contains interviews with scholars about an article they wrote and advice for students about how to do their own original research. 'How Can I Help?' features interviews with journalists, academics, politicians, political campaign professionals and activists to help students get involved. We end each chapter with a section called "From Research to Real Life" to help students connect the content to their own lives."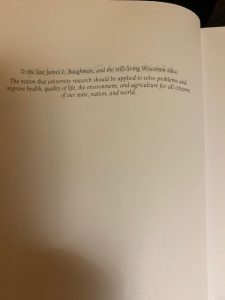 The book is dedicated to the late James L. Baughman, longtime SJMC professor and two-term director, and to the Wisconsin Idea, "The notion that university research should be applied to solve problems and improve health, quality of life, the environment, and agriculture for all citizens of our state, nation, and world."
Wagner is a professor in the UW SJMC. His research, teaching, and service are animated by the question, "How well does democracy work?" Wagner approaches this question from a variety of perspectives, incorporating into his work the study of political communication, political parties, journalism, public opinion, political psychology, political behavior, religion and politics, the presidency, and biology.
Perryman received her Ph.D. from the UW SJMC in 2017. She is an assistant professor of broadcast journalism in the Richard T. Robertson School of Media and Culture. She serves as the Journalism Sequence Coordinator of the School. Her research focuses on public trust in news with an emphasis on perceptions of media bias.