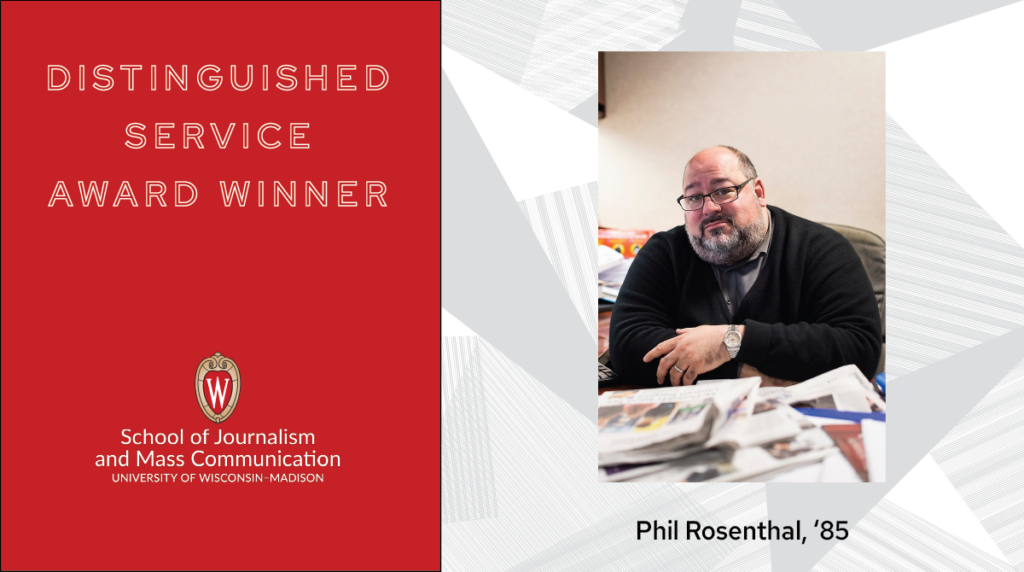 Phil Rosenthal is a former columnist for the Chicago Tribune, Chicago Sun-Times and Los Angeles Daily News and the winner of the School of Journalism and Mass Communication's 2023 Distinguished Service Award. 
Over his career of more than 40 years, his work has taken him to multiple Olympics, Super Bowls and NBA Finals, Wimbledon, the Emmys, Oscars, MTV Video Music Awards, the camps of TV's "Survivor" in French Polynesia, and elsewhere. 
What have you been up to since your time in the J-School?
I moved to Los Angeles after graduation to take a job with the Daily News. After about six months there, I got the UCLA beat, covering football and basketball. I got to cover Wimbledon tennis, wrote a sports media column, and wound up covering the Los Angeles Rams for a season before I was named the paper's TV critic. I did that for a few years before becoming a features columnist, focusing largely on pop culture. One thing I liked to do was first-person pieces, like working as a shopping mall Santa, trying to be a standup comedian, or trying on swimsuits for a Sports Illustrated cover model to judge. It was a great job, especially in L.A., the epicenter of pop culture. But the Chicago Sun-Times offered me the chance to come home in 1996. I was supposed to be the deputy sports editor, but less than two weeks into the job, a columnist was hired away by the Tribune and I replaced him, starting with Michael Jordan and the Bulls in Game 1 of the 1996 Eastern Conference finals vs. Shaquille O'Neal. Covering three Jordan championships in a little more than two years was probably the highlight of that job, along with two Olympics. Traveling with MJ, Dennis Rodman, Scottie Pippen, Steve Kerr and the rest of them was very much like being on the road with a rock band. You wouldn't believe the crowds we saw in the hotel lobbies and around the team bus. After Jordan's last title with the Bulls, I was named the Sun-Times TV critic. The Tribune lured me across the street in 2005 to be its media columnist. That meant covering my own company, which was very difficult at times through layoffs, an ownership change, bankruptcy, and so on. I eventually moved on to being a general business columnist before I returned to sports in 2016. Along the way, I dabbled in radio and TV, but as much as they might have boosted my profile, I sometimes worried it might dilute the quality of my primary work. Then, a couple of years ago, yet another owner took over the Tribune and offered generous buyouts to anyone volunteering to leave the paper. I was among dozens who took the deal. I'd been working as a professional journalist since before I came to Wisconsin, so I'd been at it for more than 40 years and it just seemed like the right time. It turned out I needed a break more than I knew.
What are you focused on right now?
I'm actually happily unfocused. Since leaving the Tribune, I've taken some freelance gigs and turned down far more. I just moderated a candidate forum here in Chicago. I've done some work with a family foundation that's been very rewarding. I've also been weighing a long-term project, maybe a book, maybe something else, to which I could devote myself. I've written parts of books before, but never one all by myself. The problem is I've lived in a world of daily journalism for so long that picking a topic I want to live with for, say, a year or more is daunting. In the meantime, I read a lot.
What's the most important lesson you learned in the J-School that helped you in your career?
There are many lessons. What I learned about libel law has been a lifesaver. But the greatest part of my UW journalism education is that it is a liberal arts degree from a world-class university. Liberal arts degrees get knocked by people who think there needs to be a direct return on investment from everything one studies in college. I think college, for journalists at least, should be more than a trade school. A liberal arts education exposes you to many areas of interest, – sometimes things you have no idea you'll care about – hones your critical thinking, and helps you make use of your own creativity. The truth is, you probably don't know what part of your education you'll draw upon and in what ways over a lifetime. The goal shouldn't be to leave college with answers so much as the ability to frame questions in a productive way and find original, factual and useful answers. Search engines and databases are great time savers, but the information they produce is only as good and pertinent as what's being asked of them. And some information are still offline, so you have to figure out where to look. Besides, a liberal arts education stands to make you a more interesting, more interested person. That translates not only to more interesting and engaged work. It makes life better. That has been my experience anyway. I still regularly think about a botany class I took, not because I care all that much about plants, but because it affects the way I look at everything in the world around me, acutely aware of how things evolve in response to their environment.
What was your favorite J-School class?
History of Mass Communication. My professor was the late Jim Baughman, who the J-School has named its senior honors after. I took a few classes with him, and he was so smart and so entertaining. His lectures were performances. If there are no video recordings of them, that's a major missed opportunity. But the subject matter was also great. I've always believed it's hard to know where you should be going if you don't know where you've been. My second favorite would probably be Media Law, which helped me to never be sued. That was taught by the late Mary Ann Yodelis Smith, a one-time nun who earned her Ph.D. in mass communication at the UW, was once the university's vice chancellor for academic affairs and went on to become the first female director of the University of Minnesota's Hubbard School of Journalism and Mass Communication. Looking back, you tend to remember the professors even more than their subject matter.
If you were to give your college self a piece of advice, what would it be?
Like my college self would listen. I don't know. Maybe don't schedule French classes at Van Hise at 8 a.m., especially in the winter, because you're just not going to make it a lot of days, but I'm pretty sure I figured that out on my own at the time. I will say it took me a while to realize not every opinion has to be wielded as a blunt instrument, but I think a more nuanced approach in writing – and everything else – is something you develop. At the same time, the unbridled passion and self-certainty of youth can be a useful thing. I wrote for The Capital Times when I was in school and the Badgers basketball coach was not happy with some things I reported about a future NBA player who was transferring to another school. The coach said if it was such a big deal, why was some 19-year-old kid covering it. And I'm told that my sports editor at the time, Rob Zaleski, to his credit, shot back at the coach: "You don't have any problem with teenagers doing your work for you." Which is the kind of unwavering support that emboldens you to be fearless for years afterward.
Favorite place to study on campus?
Like everyone, I loved hanging out on the terrace. I had a professor who had his office hours there, which was fantastic. But I'm not sure I ever actually studied out there. I honestly don't remember studying much on campus. Either that's because I studied mostly in my room, or because I didn't study enough. Probably both. I know I enjoyed going through microfilms of old newspapers in a dark recess of the state Historical Society in the days before we had easy access to databases, websites and all that.