Aaron Popkey
Director of Public Affairs, Green Bay Packers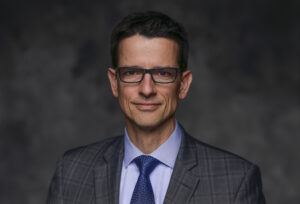 Aaron Popkey (BA '94) is director of public affairs for the Green Bay Packers. In his third decade with the organization, Popkey manages relationships with key stakeholders in the community, including federal, state and local government and civic officials, as well as regional economic development officials. He also oversees external communications and media relations for all non-football departments.
Through the course of his career, Popkey has been involved in many of the organization's major events of the past 30 years, including appearances in Super Bowls XXXI, XXXII and XLV, the redevelopment and subsequent expansions of Lambeau Field, the development of Titletown, the 50-acre, mixed-use development west of Lambeau Field, and projects that celebrated the Packers' 100th anniversary, including a Midwest Emmy-nominated documentary, Legacy: 100 Seasons of the Green Bay Packers, and an award-winning, four-volume book, The Greatest Story in Sports, Green Bay Packers 1919-2019.
A current focus of Popkey's strategic communications work, including through his roles on the boards of directors of the Greater Green Bay Chamber and New North, is to maximize the significant interest in the Packers and Lambeau Field for the benefit of the community, region and state. The overall goal is to concentrate the energy and convening power of the team to positively impact economic development, as well as attraction and retention efforts of local communities.
Popkey's work has been honored with the Friend of Forestry Award from the Wisconsin Department of Natural Resources for sustainability initiatives in 2015, Communicator of the Year Award from PRSA's Northeast Wisconsin chapter in 2016 and the City of Green Bay Mayor's Extra Mile Award for strengthening community partnerships in 2018.
In the community, his volunteer work reflects his personal interests in education, health and wellness, and outdoor sports and recreation, having served on the boards of directors of Notre Dame Academy High School, Wello, Bellin Health Foundation, Cellcom Green Bay Marathon and Bay Nordic Ski Program.
The De Pere, Wis., native earned a bachelor's degree in journalism from the University of Wisconsin-Madison and received the Ralph Nafziger Award from the School of Journalism and Mass Communication in 2005.
Popkey's family includes his wife and three children, including a daughter who is an undergrad at UW.