Carlos Dávalos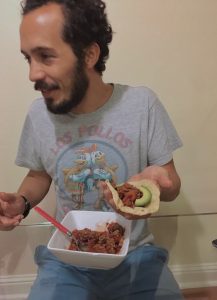 Carlos Dávalos (he/him/his) is a journalist from Mexico City and a doctoral candidate at the School of Journalism and Mass Communication with a minor in Latin American Studies. Key to his academic interests is understanding the constitution of the mainstream media relationship between Mexico and the United States. In focusing on how this transnational relationship influences Mexican policy and communication media ecologies (i.e., public sphere), a broader, more fundamental interest is the impact of this relationship on the structural and cultural configuration of Mexican identity.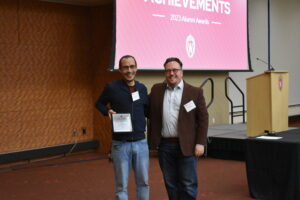 Primary research avenues include popular culture, media history, mass media conglomerates, (national) identity, and technology. How U.S. media corporations intervened in forming Mexico's media content (particularly FM radio) and corporate mainstream media structures are central to Carlos' dissertation project. Simultaneously, he works on a digital ethnography and qualitative project of Latin American right-wing narratives. And also a comparative and bilingual analysis of how border newspapers in Mexico and the U.S. cover border-related violence. Carlos deploys a body of qualitative, reflexive, and comparative methodologies in his scholarship. His work has been published in the Bloomsbury Encyclopedia of Popular Music of the World, Revista De Comunicación Política, Social Media + Society, Journal of Journalism Studies, and Transposition, Musique et Sciences Sociales. Carlos' dissertation advisor is Dr. Sue Robinson.
Carlos has taught several courses in the fields of cultural studies, journalism/communication studies and practices, and Latin American studies. At UW-Madison, he was a T.A. for J201: Introduction to Mass Communication, J335: Principles and Practices of Reporting, and J150: Sports Journalism. Inside the SJMC, Carlos is a member of the Qualitative Research Group, the International Research Group, and the Media and Politics Research Group. As part of the Latin American, Caribbean, and Iberian Studies Program (LACIS), Carlos and a team of collaborators were financed to develop further the GENTE DE LA TIERRA project dedicated to connecting and inspiring youth across Latin America and to host digital storytelling about community members' relationships with their natural environment. So far, the project includes members and environmental practices from Mexico, Puerto Rico, Argentina, Ecuador, Colombia, and Perú.
Carlos holds an M.A. in Ethnomusicology from U.T. Austin (2017) and an M.J. from U.C. Berkeley's Graduate School of Journalism (2009). Before this, Carlos obtained his B.A. in Communication from Mexico City's Universidad Iberomericana, where he later was adjunct faculty. For more than ten years, Carlos held several outside-academia positions in the Mexican media/journalism and music industries —including a newsroom position at Carmen Aristegui MVS Morning News Show, a music supervision position with film and T.V. producer Lynn Fainchtein, label management at Sony Music Mexico, and constant collaborations with radio anchor Gabriela Warkentin. For three years, Carlos was also a blogger at El Universal, one of the most relevant newspapers in Mexico. Right before moving to Austin, TX, Carlos worked at an info. analysis and intelligence agency drafting and developing strategic policy and national security documents for Mexican local and state governments. Over the past decade, Carlos founded and co-managed a cultural management (gestión cultural) company in the form of an independent imprint and record label based in Mexico City.
Twitter: @davalos