Ben Deutsch
Adjunct Instructor; retired VP, Corporate Communications, The Coca-Cola Company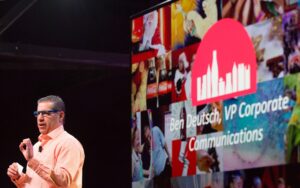 Ben Deutsch retired from The Coca-Cola Company in December 2017 after a 25-year career, the last 11 years of which he served as Vice President, Corporate Communications.  In this global leadership role, Deutsch was responsible for external and internal communications for the world's largest beverage company.  He led a 25-person team that had oversight of Corporate Media Relations, Global Brand PR, Social and Digital Communications, Issues Management and Internal and Executive Communications.
Currently, Deutsch is Chair of the Board of Directors of Covenant House Georgia, which assists homeless youth, serves on the advisory boards of BoxLock, a start-up security solutions company, and Own the Room, an interactive communications training organization, and is an adjunct professor in the School of Journalism and Mass Communication at the University of Wisconsin-Madison.
Deutsch began his Coca-Cola career in 1993 as a Public Relations Manager for Coca-Cola USA. He led national public relations programs in support of brand Coca-Cola and was the primary spokesperson for U.S. sports and promotions projects. In 1997, he became PR Manager of Worldwide Sports and Presence Properties, developing and implementing public relations strategies to help Coca-Cola's global system leverage its sponsorship of the 1998 Winter Olympics in Nagano, Japan, and the 1998 FIFA World Cup in France.
Deutsch moved to Corporate Media Relations in 1999, and, in 2002, he was named Director of Marketing Communications, where he developed and executed public relations strategies for Coca-Cola's major global marketing initiatives.  In 2003, Deutsch was promoted to Director of Financial Communications.  In that role, he developed and implemented media relations strategies and served as the company's primary spokesperson.
Prior to joining Coca-Cola, Deutsch worked at the public relations firms of Shandwick USA in Bloomington, Minn., and Wells & Miller in Minneapolis. He also was a sports reporter for the Wisconsin State Journal for two years.
In addition to Covenant House Georgia, Deutsch serves on the Board of Directors of the Posse Foundation-Atlanta, which recruits, trains and connects dynamic high school students from diverse backgrounds with top colleges and universities, the HAVE Foundation, which provides quality education for the children of the Agalta Valley of Honduras, and Camp Hooray, a fully accessible camp for kids with disabilities.  He also served as Chairman of the Board of Special Olympics Georgia and currently serves on the organization's Honorary Board.  Deutsch is also a 2012 graduate of Leadership Atlanta, and served on the organization's Board of Directors from 2013-2018.
A journalism graduate of the University of Wisconsin-Madison, Deutsch has been a very active alumnus.  He served on the Board of Visitors (BOV) of the university's School of Journalism & Mass Communication from 2007-2012, and served as Chairman of the BOV from 2013-2014.  Deutsch was honored with a Distinguished Service Award by the J-School in 2018.  He currently serves as a Committee Co-Chair of the College of Letters & Sciences Career Initiative, SuccessWorks.  Deutsch was also the commencement speaker at the university's 2014 Winter Commencement Ceremony.
Deutsch is currently an Executive Masters candidate in sports marketing at Temple University.
Deutsch and his wife, Karen, have two adult children and reside in Dunwoody, Georgia.