Arvind Gopalratnam
Adjunct Instructor; VP of Corporate Social Responsibility, Milwaukee Bucks; Executive Director, Milwaukee Bucks Foundation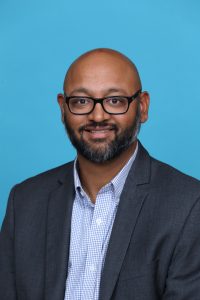 Arvind Gopalratnam is the Vice President of Corporate Social Responsibility for the Milwaukee Bucks and the Executive Director of the Milwaukee Bucks Foundation. He grew up in Mequon, WI, is a proud graduate of UW-Madison (Journalism) and George Washington University (Masters in PR) and a lifetime Wisconsin sports fan. As a member of the World Champion Milwaukee Bucks Social Responsibility team, Arvind leads the organization's mission to make the place in which we work and play a better place for all families to live. Arvind is currently in his sixth season with the Bucks after spending 11 years in corporate communications for NBC Universal and General Electric's Healthcare business.
Arvind currently serves on the board of directors for the Wisconsin Conservatory of Music, Feeding America Eastern Wisconsin and the Special Olympics of Wisconsin.
Arvind is married to Brenda Long (a fellow Wisconsin alum) and they have three kids: Leo (9), Rajan (6) and Sonia (3 months).