Greg Downey
Evjue-Bascom Professor
Twitter

Website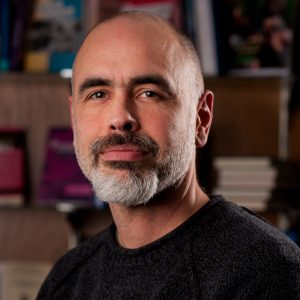 Greg Downey is an Evjue-Bascom Professor in both the School of Journalism and Mass Communication (where he served as Director from 2009-2014) and the Information School at the University of Wisconsin-Madison.  His research uses historical and geographical methods to uncover and analyze "information labor" over time and space.

Downey is the author Telegraph Messenger Boys: Labor, Technology, and Geography 1850-1950 (2002), Closed Captioning: Subtitling, Stenography, and the Digital Convergence of Text with Television (2008), and Technology and Communication in American History (2011). He is also co-editor of Uncovering Labor in Information Revolutions, 1750-2000 (with Aad Blok, 2004) and Science in Print: Essays on the History of Science and the Culture of Print (with Rima Apple and Stephen Vaughn, 2012). 

Professor Downey has led both the 350-student Comm-B course Introduction to Mass Communication (a gateway for entry into the Journalism & Mass Communication major) and the 150-student hybrid online and in-person Comm-B course The Information Society (a gateway for entry into the Digital Studies Undergraduate Certificate). He has taught more than a dozen different seminars at UW-Madison, such as History of American Librarianship, Video Games and Mass Communication, Uncovering Information Labor, and Interdisciplinarity in the Modern Research University.  In 2007 he won the UW-Madison William H. Kiekhofer Distinguished Teaching Award.  He is currently Director of the L&S career courses with SuccessWorks. 

A former computer systems analyst, Downey has worked for Leo Burnett Advertising (1989-1992) and the Institute for Learning Sciences (1992-1995). He earned his BS and MS in Computer Science from the University of Illinois at Urbana-Champaign in 1987 and 1989 respectively; his MA in Liberal Studies from Northwestern University in 1995; and his Ph.D. in history of technology and human geography from the Johns Hopkins University in 2000. Previous to coming to Madison in 2001, he spent a year as a Postdoctoral Fellow in the Humanities at the University of Minnesota.

Downey currently serves as Associate Dean for Social Sciences in the College of Letters & Science.  He resides in Madison and enjoys bicycling to work all year long.