Hernando Rojas
Helen Firstbrook Franklin Professor of Journalism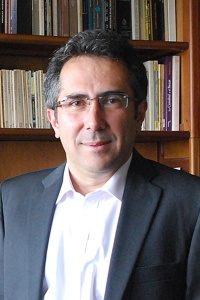 Hernando Rojas is Professor of Journalism and Mass Communication, Helen Firstbrook Franklin Chair in the School of Journalism and Mass Communication at the University of Wisconsin-Madison. His scholarship focuses on political communication, in particular examining: (a) the deployment of new communication technologies for social mobilization in a variety of contexts; (b) the influence of audience perceptions of media (and audience perceptions of media effects) on both public opinion and the structure of the public sphere; and (c) the conditions under which media support democratic governance.
This focus is reflected in his teaching, which includes SJMC 565: Media Effects, SJMC 614: Public Opinion, SJMC 658: Research Methods, SJMC 830: Global Communications and SJMC 833: Technology and Society. He has authored five books and over 80 articles and book chapters. His research has won awards from the International Communication Association (ICA), the World Association for Public Opinion Research (WAPOR) and the Association for Education in Journalism and Mass Communication (AEJMC). In 2020, Rojas was elected a Fellow of the International Communication Association, joining a group of 150 living scholars holding this high honor worldwide.
Rojas has served as Editor in Chief of the International Journal of Public Opinion Research and multiple editorial boards. He has held leadership positions as Director of the Latin American, Caribbean, and Iberian Studies Program and in professional associations including ICA, WAPOR and AEJMC. Rojas holds courtesy research affiliations with the Colombian Center for Political Communication Research, the Universidad Católica in Chile, and the Singapore Internet Research Center. Rojas received his doctorate in Mass Communication in 2005 from the University of Wisconsin, has an MA in Mass Communication from the University of Minnesota, and a law degree from Universidad Externado de Colombia.
His professional background includes: (a) media publisher; (b) consultant to the United Nation's Development Program; (c) public opinion consultant; (d) consultant for Public Radio, Public Television and the National Center for Outreach in the United States.