Leonor Hidalgo-Ciro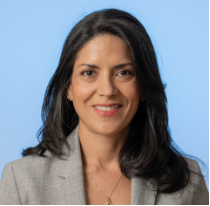 Leonor Hidalgo-Ciro is a Ph.D. student at the School of Journalism and Mass Communication at the University of Wisconsin-Madison. Her research interests include global health, migration, behavioral sciences and the role of communication narratives in these areas.
Before coming to Madison, she worked for more than 15 years in the public sector designing policies and leading projects for socio-economic development using her expertise in science, technology and innovation in Colombia. During the last two years, she has been working as the Innovation and Business Development Director at VaxThera, a Colombian biotechnology company that designs and develops vaccines and therapeutics.
Leonor holds a Bachelor's degree in law from the University of Antioquia and a Master's degree in political studies from the National University of Colombia. She was a Fulbright scholar at MIT in 2021.
She is an amateur half-marathon runner and loves reading. Leonor is Amelia's mother and a citizen committed to making society more equitable and sustainable.