Indri Maulidar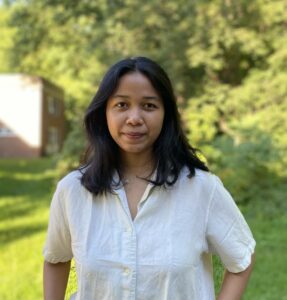 Indri (she/her/hers) is a Ph.D. student at the School of Journalism and Mass Communication. Her research broadly investigates burnout in the newsroom and how covering natural disasters affects journalists, particularly the long-term mental health aftermath. She is a qualitative researcher but currently training to be a mixed-method researcher.
Indri worked as a journalist for several years in Indonesia prior to joining SJMC, covering politics, political corruption, national election, and disasters, including the 2018 Boeing 737 Max airplane crash in Indonesia and the 2018 Anak Krakatoa eruption and Sunda strait tsunami. She also covered the Covid-19 pandemic focusing on vaccine rollout, vaccine inequity, and vaccine misinformation. Her work as a journalist in Indonesia has been recognized by multiple awards.
Indri has a Bachelor's degree in communication from Universitas Telkom and a Master of Arts from Michigan State University as a Fulbright Scholar. Get in touch with her via Twitter or LinkedIn.