Elsa Medhin
TV Host, Midday Maryland, WMAR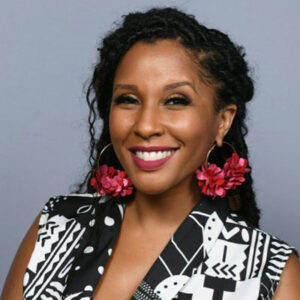 Elsa M. (Liz Medhin, '03) is an award-winning journalist, TV host, radio host, podcaster, and commercial spokesperson/actress. She is currently the host of "Midday Maryland" – a daily lifestyle TV show on WMAR-2, ABC in Baltimore airing each weekday at noon.
Prior to her move to the DMV, Elsa was a TV Reporter/Anchor for ABC, 13 WHAM News and co-host of the highest-rated morning radio show in the Rochester, NY market: "The Wake-Up Club" on 103.9 WDKX. She also was a reporter for WDRB, FOX 41 News in Louisville, KY and R News in Rochester, NY. Upon moving to the DMV, Elsa co-created and co-hosted "The Intersection" – a live-streamed, studio-produced web show and podcast out of Washington, D.C. with her friend and fellow host Jeff Johnson.
A veteran on-air talent and standout in the field for the ability to reach diverse and wide-ranging audiences, Elsa has excelled in every facet of media, from broadcast to print, digital, and strategic communications. She prides herself upon pairing her extensive on-air experience with a proven track record of building tech brands into trusted household names. Beginning at Yelp pre-IPO, Elsa played a key role in personalizing the brand to build connections with local businesses and active contributors that drove platform utilization, ultimately making it a household name.
Elsa has been honored numerous times throughout her career, receiving several awards and distinctions, including earning an Edward R. Murrow Award for Excellence in Spot News, four Emmy nominations, winning The National Press Foundation's "Why Journalism Matters" competition, and accepting The Ralph O. Nafziger Award from the University of Wisconsin-Madison for Excellence in Journalism. Elsa was named as one of the city's "40 Under 40" by Baltimore Business Journal and Living Classrooms and one of the "40 Ethiopians Under 40 Changing the World" by Addis Life Magazine. She's also been recognized as one of 'her' Magazine's "Top 10 Women to Watch" and Democrat and Chronicle's "Top Emerging African American Leaders."