Pat Hastings
Distinguished Teaching Faculty III
608-262-8877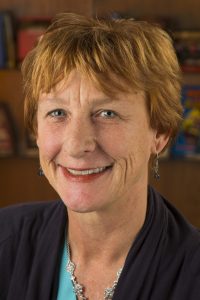 Patricia Hastings is a Teaching Faculty III in the SJMC, earning the title of Distinguished. She specializes in video and audio journalism. She is responsible for overseeing the Badger Report, a live streamed student produced newscast, which has received many awards for student work. She also teaches Long Form Video Journalism, Reporting Principles and Practices and Storytelling Through Sound.
Hastings has served on numerous SJMC committees, such as the Constituent Relations Committee and the Undergraduate Admissions Committee.
As advisor to the Public Relations Student Society of America, she works with a large and dedicated group of students. In the past, she has supervised student entries into the PRSSA Bateman Competition.
Prior to joining SJMC, Hastings worked in radio and television news in Pittsburgh, Indianapolis, Milwaukee and Green Bay, to name a few. She has extensive radio and television news reporting and producing experience. She also owned her own media consulting firm and is listed with producer credits in the Internet Movie Database (IMBd) for work producing independent films. In addition, she has produced streamed video event.
Hastings was accepted as a member of the Podcast Academy, and solicits ideas from educators for podcast use in education. She also belongs to Podchaser and the Milwaukee Press Club. She serves on the Wisconsin Broadcasters Association Education Committee and is active in judging contests for the WBA as well as contributing to the state convention. Hastings received her BA in Journalism from the University of Wisconsin-Eau Claire, and her MA at the University of Wisconsin-Madison's School of Journalism and Mass Communication.
Although she worked as a reporter and producer in several markets, Hastings finds working with students to be most gratifying. When she is not working in the reporting labs, Hastings can be found biking various trails or watching The Milwaukee Brewers. Or really, any baseball.