Jing Wang
Assistant Professor
Website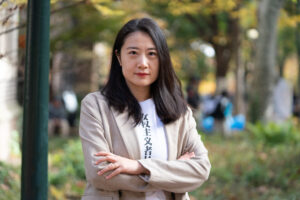 Jing Wang is an assistant professor at the University of Wisconsin-Madison School of Journalism and Mass Communication. Her research, teaching, and public scholarship have been mainly driven by two questions: How do socially disadvantaged communities make their own voices heard? What are the limits and potentialities of global media cultures in shaping the lives and histories of these communities? Driven by these questions, her research interests include:
Global media and communication;
Sound and podcast studies;
Gender, race and ethnicity;
Anthropology of Islam and Muslim societies;
Mobility, diaspora and memory;
Translation Practices and Theories;
China, East Asia, Asian American communities;
Multimodal and public scholarship.
Currently, Wang is working on a book manuscript under contract with Columbia University Press. This book examines the media practices of Chinese Muslims to construct and sustain vibrant Islamic publics in a Global South, Muslim-minority context. She has published in peer-reviewed journals such as New Media and Society, Made In China Journal, Asian Anthropology, Journal of Contemporary East Asia, Terrain: Anthropologie & Sciences Humaines, and Journal of Transformative Learning.
Meanwhile, multimodality and collaboration are central to Wang's public-facing scholarship. She is a podcaster, archivist, curator, and translator. In 2015, Wang joined CNPolitics 政见 and initiated its podcast series. In 2020, she co-founded TyingKnots 结绳志, an independent, non-profit, volunteer-based group committed to breaking down walls between academia, media, and the public through translation projects and the promotion of public-facing scholarship. From September 2022 to July 2023, she co-founded and produced the Global Media & Communication podcast series as part of the multimodal project powered by the Center of Advanced Research in Global Communication (CARGC) at Annenberg School for Communication, University of Pennsylvania. Wang's commentaries and essays feature in academic and public media outlets such as Anthropology News, Pop Junctions, Today's Totalitarianism, Asian Review of Books, Initium, Inkstone, CNpolitics, Oriental History Review, among others.
Education
Ph.D., Socio/Cultural Anthropology, Rice University
M.A., Socio/Cultural Anthropology, Rice University
B.A., English Language and Literature, Renmin University of China
Selected Publications
Courses to Offer in Fall 2023 and Spring 2024