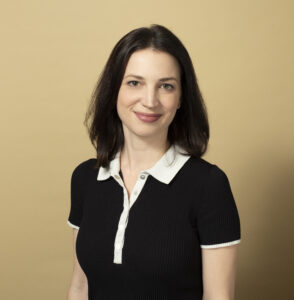 Name: Cara Lombardo
Title and Organization: Mergers & Acquisitions Reporter, The Wall Street Journal
Graduation year and degree: 2010 BBA, 2011 IMAcc, 2016 MA in Journalism and Mass Communication
Business reporter Cara Lombardo joined The Wall Street Journal in 2017 after internships with the Milwaukee Journal Sentinel and the Wisconsin Center for Investigative Journalism as well as a stint with the AP covering politics from the Wisconsin State Capitol. Before returning to school to study journalism, she worked as a CPA. Cara was part of a Journal team that recently won a Gerald Loeb award for a series highlighting how Amazon's business practices box out competition. We caught up with her to hear more about her work.
When it comes to this award, what are you most proud of? 
The Wall Street Journal documents the business forces shaping the world around us and takes pride in doing so in a clear, straight-forward manner. The award, and any recognition that calls attention to our work, is a bonus and I hope it means the work resonates with our readers.
Personally, I have always been fascinated by the business world. After seeing its inner workings auditing banks and asset managers, I left a career in accounting for journalism because I was eager to explain its impact on our everyday lives to a wide audience. It's gratifying to tell people something new and important about a company as ubiquitous as Amazon.
What's the best advice you have for a J-School student who wants to do what you do?
I was thankful for a mentor who told me early on to write as much as possible and take on as many types of assignments as possible. In addition to making you a better and faster writer, it helps you figure out what you want to specialize in and allows you to learn from different editors.
I'd also urge students to stay in touch with people they speak to for stories. Rather than getting a one-time quote from someone and forgetting about them after you turn in the assignment, keep them in mind and circle back if you hear something of interest. The best stories often come from fostering these connections.
What is your favorite J-School memory? 
When I joined Madison Commons, and later the Wisconsin Center for Investigative Journalism, I had a front-row seat to real newsrooms. I got to participate in both editorial meetings where we planned (and debated) coverage, and discussions about newsroom budgets where we determined whether we'd spend money on a reporting trip or a new camera that month. They're the same conversations taking place in every newsroom every day.
I also cherish the long days spent fact-checking articles at WCIJ. While grueling, they taught me skills I use today.