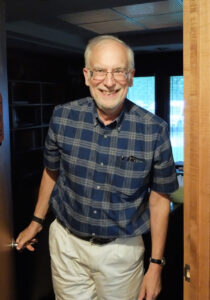 Name: Phil Haslanger
Title: Chair of the Center for Journalism Ethics Advisory Board
Graduation Year and Degree: 1971 BA in sociology, 1973 MA in journalism
J-School alum and CJE Advisory Board Chair Phil Haslanger has been inducted into the Wisconsin Newspaper Association Foundation's Wisconsin Newspaper Hall of Fame. This honor recognizes his distinguished career at The Capital Times from 1973-2008 as a reporter, city editor, editorial page editor and managing editor. Phil saw the paper through rapid technological advances, from moving from typewriters to word processors in 1975 to launching madison.com in 1995 and beyond. Phil joins a variety of fellow SJMC alums and friends, including fellow 2021 inductee Meg Jones (BA'84). We caught up with Phil to hear more about his career and his favorite J-School memories.
When it comes to this recognition, what are you most proud of?
First of all, I am in some really good company with the award – the editor of the first Black-run newspapers in Wisconsin (J. Anthony Josey), a stellar reporter from the Milwaukee Journal-Sentinel (Meg Jones) along with other significant figures from Wisconsin newspapers. Then, I am proud that the award recognizes my efforts over the years to be an advocate for social and racial justice and to empower women and people of color in the newsroom.
What's the best advice you have for a J-Schooler who wants to do what you do?
Absorb as much information as you can from your classes – in J-School, for sure, but also from a breadth of subjects. Then report and write – for student publications and on a freelance basis. Then report and write some more. Find people who are good at editing your work and helping you improve. Get out and talk to people. Keep meeting more people – especially people whose background is different than yours.
What is your favorite J-School memory?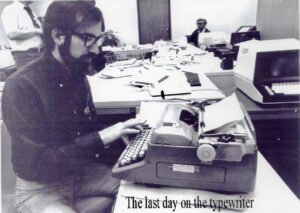 It's a really nerdy memory but it made a big difference for me. As a grad student, I was part of the early arrivals in 1972 in the brand new Vilas Hall and one of the features was a Hendrix cathode-ray tube (CRT) on which we could write stories. So I did. Three years later, when the Cap Times replaced typewriters with CRTs, I felt very comfortable writing on the early word processor. And that helped me keep pace with the many technological changes in the newsroom over the years.