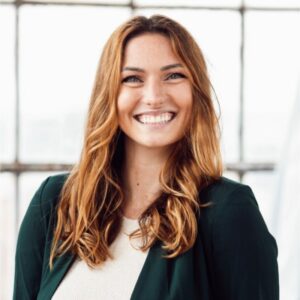 Name: Rachel Bozich 
Title: Freelance Filmmaker  
Graduation year and degree: 2014 BA in Journalism (Strategic Communication and Reporting) and Communication Arts, Digital Studies Certificate
Earlier this month, the new docuseries LuLaRich premiered on Amazon Prime Video to a slew of praise and social media chatter. The four-part series details the  rapid rise and catastrophic fall of the multilevel marketing (MLM) clothing company LuLaRoe. J-School alum Rachel Bozich (BA'14) is a story producer on the docuseries. We caught up with her to hear more about her role in the project and advice she has for J-School students looking to get into the film industry.
When it comes to this docuseries, what are you most proud of? 
There is a lot to be proud of in this docuseries! The market is quite saturated with content right now, so making something that's sparking conversations and grabbing the audience's attention is very exciting. From a behind-the-scenes production standpoint, the entire series was made remotely during the pandemic. This means Zoom and phone calls were how we conducted day-to-day workflow, story sessions, the edit and even some interviews. That is very unusual and a feat by itself. I am proud of my role as Story Producer — finding interview sources and serving as a story brain bank for the editors and supervising producers. I am also proud that the docuseries is starting a much needed conversation on how MLMs and pyramid schemes go largely unregulated in American society, and the negative effects they can have on the people involved.
What's the best advice you have for a J-School student who wants to do what you do? 
There are four!
Create, create, create! Especially when you first start. You'll be hired to do a job that will likely not be where you want to end up, so make sure you're always working on something that is creatively stimulating and challenging your skillset outside of work. And share! People want to see your vision and be a part of your growth.
Learn. Don't be afraid to learn different roles in the industry. I started in post production (editing) and have since moved to producing. Having knowledge of the different fields within film has made me a more well-rounded filmmaker. The best piece of advice I've ever received is to look at your career as a funnel (wide at the top and narrow at the bottom). Look at each job opportunity for the qualities and strengths it will add to you as an overall person. Don't get too bogged down by if a job is the perfect fit, because you'll likely never find that. View each job as a stepping stone to becoming the most full-rounded version of yourself — the person at the end of the funnel.
Be ready for a challenge. It is not an easy industry and is not "by the books". It is very unusual to have a 9-5, standard healthcare and a retirement plan outlined for you. Look to other people in the industry for guidance. Going in knowing the industry is different will help you excel in it and force you to be asking the right questions from the beginning!
And finally, network! It's all about connections. If someone is interested in working in film, specifically documentaries, definitely reach out to me! And reach out to other people you know in the roles you want to be in and talk to them. Get involved with filmmaking networks and go to work-in-progress screenings to meet people and see how others do things.
What is your favorite J-School memory?
Oh my, there are so many it's hard to narrow down, but it feels appropriate to credit the class where J-School graduates came back and talked to current students. That class introduced me to the concept of coloring commercials, which led to me interning at advertising post production houses and learning the base skills that propelled me to work in documentary film!