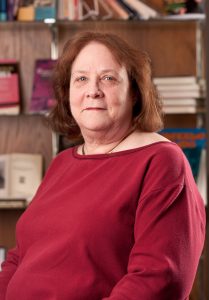 Susan French Brandscheid, a central figure in the School of Journalism and Mass Communication during a 40-year career at UW-Madison, died Sept. 12, 2018, in Madison. Affectionately known as "Susie" to J-School faculty, staff and legions of graduate students, Brandscheid will be remembered for her dedication, guidance and ability to crack bureaucracy to find solutions.
Brandscheid joined UW-Madison in September 1969 as a typist for University Hospital and the Department of Sociology. In the summer of 1973, she was hired by the School of Journalism and Mass Communication to provide staff support. The School quickly expanded her duties to work with graduate students, sort out fundraising records and generate budgeting and staffing data. In 1975, Susie was promoted to academic specialist. She soon rose to the positions of assistant to the director and graduate student advisor.
A lifelong animal lover who was always ready to take in a stray cat, Brandscheid also was an accomplished chef and world traveler. As an effective and committed advocate for the School's graduate students, she spent years listening to people and helping them believe in themselves. Her sense of humor was dry and her laugh infectious. Her institutional memory was prodigious and invaluable, with many of us turning to her for guidance on myriad campus and departmental issues.
"Susie Brandscheid was an iconic presence in the School of Journalism and Mass Communication," said Hemant Shah, J-School director. "We and all the students she guided will miss her."
A memorial service is scheduled for Tuesday, Sept. 18, from 1 p.m. to 3 p.m. at Cress Funeral Home, 3610 Speedway Rd. in Madison.