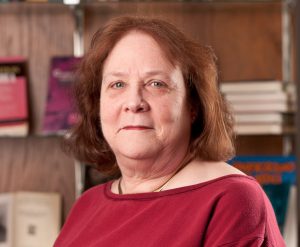 Susan French Brandscheid, a central figure in the School of Journalism and Mass Communication who worked at the University of Wisconsin-Madison for 40 years and was known affectionately to many as "Susie," passed away on Sept. 12, 2018. She had been ill for some time.
Brandscheid started work at UW-Madison in September 1969 as a "Typist 1" for University Hospitals and the Department of Sociology. She joined the School of Journalism and Mass Communication staff in 1973 as a "Typist 3" to provide support services to the faculty. Soon thereafter, her duties were expanded to include special projects working with teaching assistants, updating and organizing records and producing staffing and budget data.
In 1975, Brandscheid was promoted to academic specialist, serving as assistant to the director. She worked with eight of the school's 11 directors. In 1985, Brandscheid added the role of graduate adviser to her duties. Brandscheid quickly became nearly indispensable for her deep knowledge of university procedures and her unfailing institutional memory. She retired in 2011, but worked for two more years, volunteering her time to help us all transition to the "post-Susie" era.
Brandscheid was a dedicated and compassionate advocate for graduate students. She was a great listener and solved all kinds of problems graduate students might face. Brandscheid was known to drive newly arrived students around Madison to help them find an apartment or talk for hours, guiding them through difficult questions about careers and academic life. She worked tirelessly to ensure that graduate students stayed on track to complete their degrees. Using her deep knowledge of UW requirements, she was an expert at breaking through bureaucratic logjams.
A lifelong animal lover, she was always ready to take in a stray cat or help colleagues take care of their pets. She was also a world traveler and accomplished chef; once she combined these passions with a trip to France to attend culinary school.
When Brandscheid retired in 2011, she established the School of Journalism and Mass Communication Director's Fund "to honor the eight extraordinary directors with whom she had worked: Harold L. ("Bud") Nelson, William A. Hachten, Steven H. Chaffee, James L. Hoyt, Robert E. Drechsel, Sharon L. Dunwoody, James L. Baughman, and Gregory J. Downey." With this fund, she wanted to support receptions, ceremonies and celebrations that reaffirmed the sense of community among the school's faculty, staff and students.
Brandscheid was an iconic presence in the School of Journalism and Mass Communication. We will all miss her. If you'd like to contribute to the fund in Brandsheid's memory, please follow this link: www.supportuw.org/giveto/susiefund/.