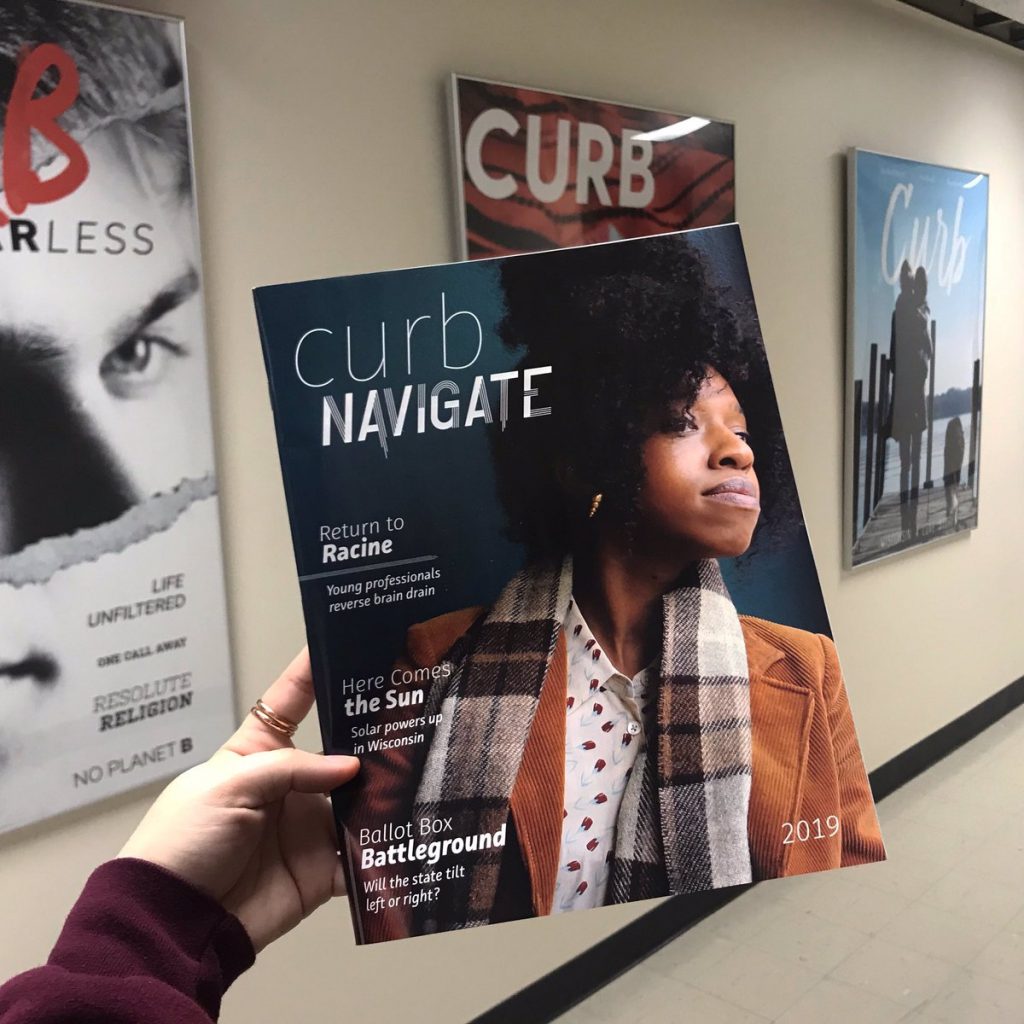 The 18th edition of Curb magazine, which focuses on the power of decision-making, launches today, following the stories of those who are charting the course of Wisconsin's future through their individual choices.
The magazine, titled "CURB Navigate," is based on the idea that while making choices isn't always easy, it can be exhilarating. As a new decade filled with both possibility and uncertainty nears, CURB Navigate explores how Wisconsinites are rising to the challenge of choosing between diverging paths. Whether it's the changing landscape of solar energy, dealing with an invasive species or evaluating Wisconsin's fate in the 2020 presidential election, there are a lot of decisions to be made.
Starting with this single idea and transforming it into an entire publication, 23 students in the School of Journalism and Mass Communication at the University of Wisconsin-Madison had the opportunity to work on Curb this semester.
Kayla Huynh, the editor in chief of Curb, advised the class in crafting each story to ensure it properly conveyed the theme of Navigate.
"Our magazine features stories of people who have made incredible choices, whether that be in their personal lives or in their communities," Huynh says. "I wanted the class to highlight the importance of those decisions and how they're telling of our own values and identities."
Through collaboration, dedication and close attention to detail, the magazine was funded and produced in less than three months. Since early September, the Curb staff has spent many hours perfecting the philosophy and cohesiveness of the 18th edition. From content development and design, to fundraising and external promotions, this course gives first-hand experience and full creative range to students in a publication that has previously won awards from the Society of Professional Journalists and the Milwaukee Press Club.
Stacy Forster, course instructor and Curb publisher, guided the students throughout the process and helped them achieve the goals that they had mapped out at the beginning of the semester.
"The students took on big issues in looking ahead to where Wisconsin is heading and how people across the state are moving it forward," Forster says. "They should be proud of everything they have accomplished and the publication they created."
The Curb business team led the charge in raising the funds to cover the costs of publication. For the 10th year in a row, Royle Printing, located in Sun Prairie, donated half the cost of printing.
The 18th edition of Curb magazine will be distributed to 10,000 UW-Madison alumni across Wisconsin and will be available around Dane County. The online site, curbonline.com, also includes the full-length stories with additional interactive experiences to supplement them, as well as exclusive video and audio content.