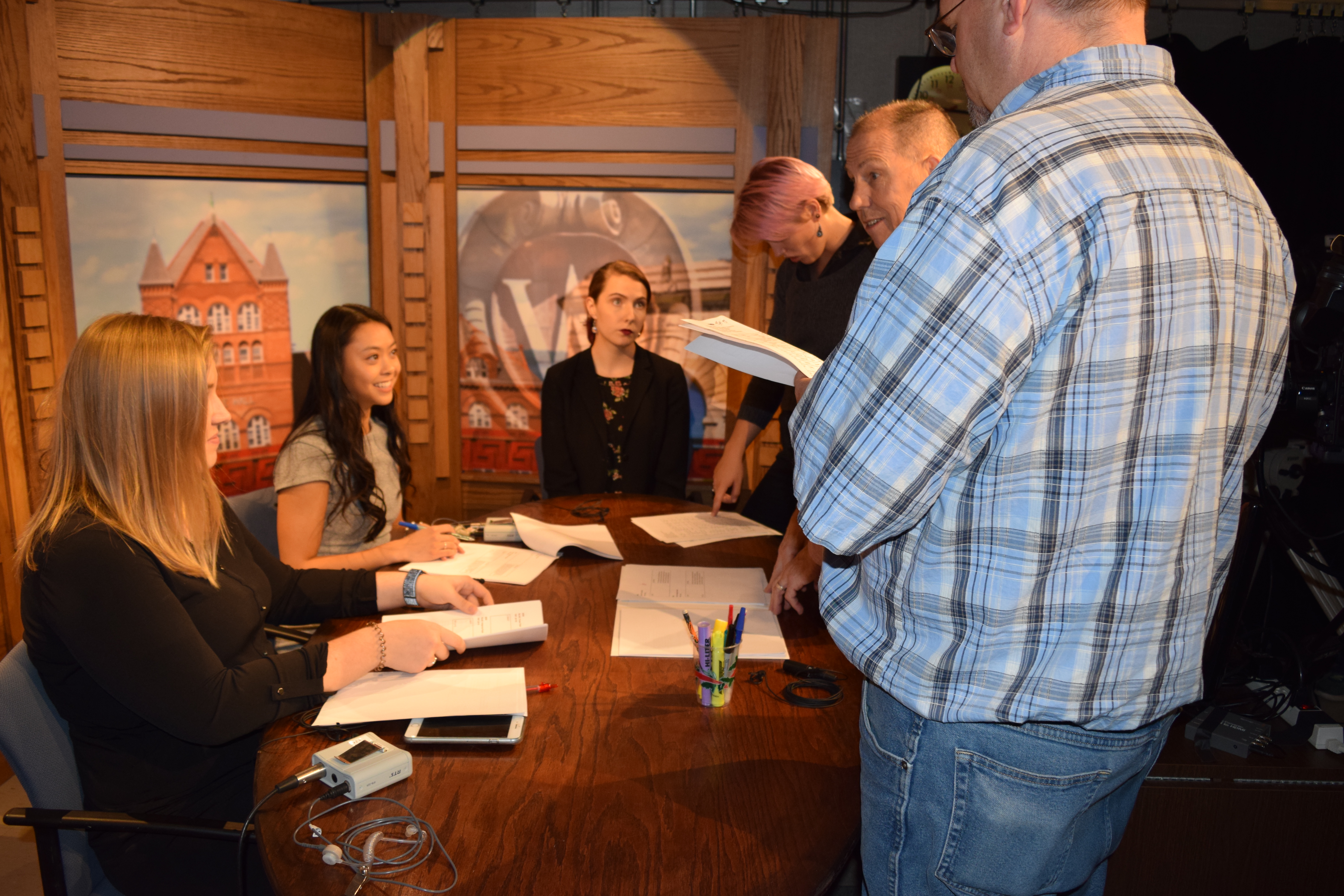 Student newsroom turns 20
By Colleen Muraca
It's under an hour until showtime and everyone in the studio is buzzing, preparing to apply what they've learned in Journalism 425 to their first experience producing a live newscast. Under the guidance of faculty associate and longtime journalist Pat Hastings, each student takes on one of the jobs necessary to make the newscast the best it can be.
For students pursuing a career in reporting from the School of Journalism and Mass Communication, this experience is invaluable. Hastings, an experienced teacher, has led Journalism 425, a course on video journalism, for 20 years. 
The students are busy producing the Badger Report, a newscast that has been covering important community issues and winning numerous awards from the Wisconsin Broadcasters Association and the Milwaukee Press Club since 2009. (The newscast was formerly known as the Campus Update and UW Campus Cast).
"This course has evolved with the times over the last 20 years," Hastings says. "We went from a TV newscast that was pretty traditional that went 'over the air' via cable. Now we livestream our newscast, with additional social media and web presence."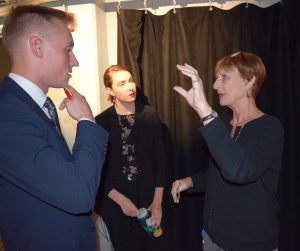 Each fall, students use PBS Wisconsin studio space to produce five 30-minute broadcast shows. Students aim to tell the stories that affect campus and the local community while also upholding high journalistic standards. Recent Badger Report stories have reported on how truck drivers are fighting human trafficking and covered events such as immigration protests on campus, the Madison Marathon and the Vilas Zoo Lights.
The first month of class is dedicated to learning the technical basics of crafting, writing, recording, editing and packaging stories that are relevant and newsworthy. These fundamental lessons then prepare the students for their first news production, which is livestreamed online. 
"The class turns into a mini newsroom," Hastings says. "The traditional newscast is only one component though. Students tell stories through new media. A story that 'airs' in a traditional newscast also must be recreated for the web and social media. The 'live' component also requires considerations of time and the most effective way to convey the story."
"Broadcast news is a whole different beast than print journalism," current Badger Report student Ellie Spadaccini says. "It's a visual medium with a lot more moving parts."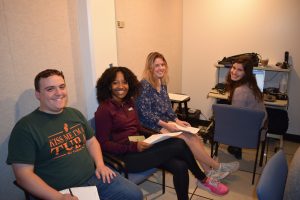 Students have to demonstrate in real time that they understand what it takes to produce a succinct and accurate newscast for viewers. The course also introduces students to all of broadcast's roles, including production, reporting, studio floor management, news writing, videography and more.
"With help from the Badger Report, I have a much clearer idea of what I want to do: produce," Spadaccini says. "If I had been asked a semester ago what I was going to do post-graduation, I wouldn't have had an answer. This class gave me one, and I'm so excited to see what I can do with it."
"I would take this class 100 more times if I could," Spadaccini adds. "The news is always changing, there's always going to be more to learn, Pat's always going to be an amazing professor."
For the latest in campus news and to see student broadcasters at work, catch the final fall semester broadcast live on December 5 at 4 p.m. You can also learn more at the Badger Report's news site.