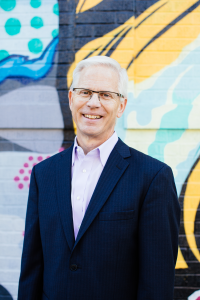 Scott Farrell graduated from the School of Journalism and Mass Communication in 1978 with a pocket of debt and a load of ambition. Today he is the President of Global Corporate Communications at Golin, an international PR agency headquartered in Chicago.
In his current position, he acts as what he describes as the "standard bearer" of the practice by promoting Golin's work in corporate communications. He engages with speaking platforms and interviews, among a slew of other things. But Farrell also spends a good deal of his time guiding his teams in their client work. With calls coming in from all over the world at any given time of the day, he remains ready to provide advice and make the connections for his teams that will help his clients succeed.
When he's not on the phone with other continents, it's quite possible he's on one. Farrell mentions a love for travel in China, listing Beijing, Shanghai and Hong Kong as his most frequented places. Being on the other side of the globe puts him in a different time zone and a different state of mind.
"It's one of the few places in the world that I've gone to where it's a completely immersive experience," says Farrell. "You really have to just kind of put yourself in the hands of culture and in the hands of your hosts and go with the flow."
Farrell has a unique perspective of the SJMC, being an alum and also a member of the Board of Visitors. He has watched the school transform with the changing media landscape, though he notes that the passion from the staff and faculty within the school and the academic rigor continue just the same. To this day, Farrell says he hears the voice of his professor, Bill Blankenburg, in what he remembers as his Introduction to Mass Communication class whenever he sits down to write.
"They drilled the fundamentals into me in terms of being a sound writer and a good reporter, and literally those lessons still echo today," says Farrell.
Farrell has been at Golin for 22 years now. When asked what's next for him, a declarative answer immediately follows: "Year 23." Though he's an accomplished veteran in his field, Farrell has more to check off on his to do list. Up next on that list – "learn more, do more, have more fun."