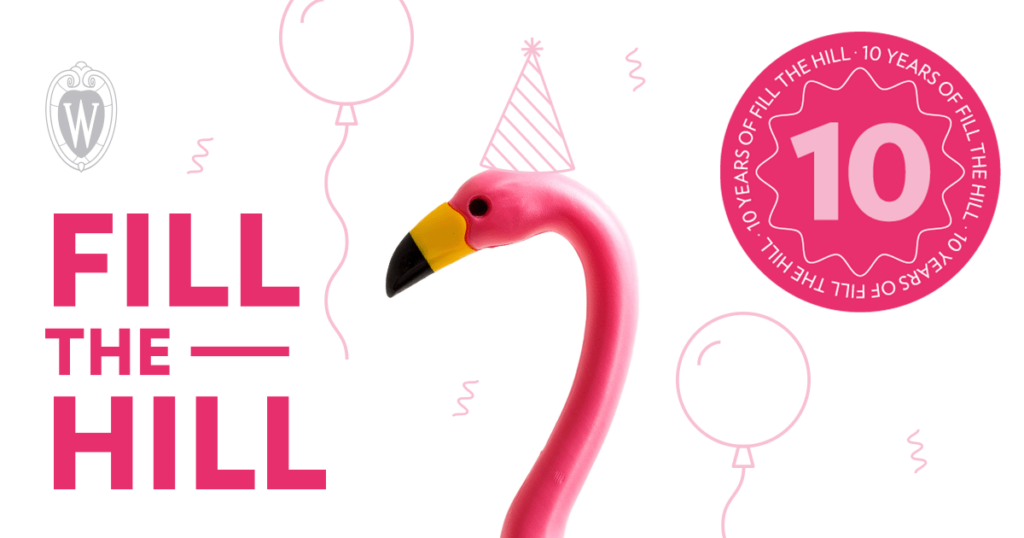 The 10th annual celebration of one of UW-Madison's most iconic homecoming traditions, Fill the Hill, will take place on Bascom Hill this Thursday starting at 5 p.m. For 24 hours, every gift the School of Journalism receives will add a pink flamingo to the hill.
Fill the Hill is a fundraising effort that brings campus lore to life in support of the university. In 1979, students and other passersby were treated to the sight of 1,008 plastic pink flamingos placed on Bascom Hill by student government pranksters from the Pail and Shovel Party. Ever since, these lawn ornaments have become a treasured UW–Madison tradition.
Last year, the J-School raised $16,400. And in both 2020 and 2021, SJMC raised the most money of any unit in the College of Letters and Science! This year, we know our J-School community will once again flock together to provide robust support for our current students.
Fill the Hill is a chance for us to come together as a community, support current students and share our J-School pride.
The impact of gifts made to the School of Journalism and Mass Communication's Annual Fund during Fill the Hill are far-reaching and make a meaningful difference for students by:
Providing scholarships to our James L. Baughman Senior Achievement Award winners
Updating facilities and technology to ensure high-quality classroom experiences
Launching diversity, equity and inclusion initiatives to make the J-School a place where all students feel welcome
Supporting innovative student projects in media, strategic communications and research
"Your contribution to Fill the Hill makes SJMC stronger, as it helps us support our students, innovate in the classroom, and fund some of our inclusion initiatives," said SJMC Director Hernando Rojas. "With you summing, we can multiply."
Join us beginning at 5 p.m. Central on Thursday, October 20 through 5:00 p.m. Central on Friday, October 21 for Fill the Hill!