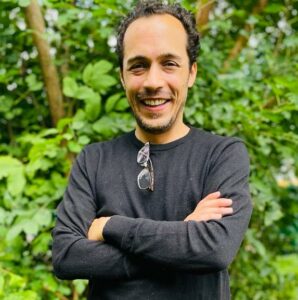 The J-School strives to be a place where everyone feels they belong, where they feel nurtured, and where all of their identities are welcomed. By bringing together a variety of different voices, backgrounds, experiences and identities, our department gains rich perspective in our teaching, learning, research and service. The J-School Inclusion Committee works to fulfill this mission by setting goals for diversity, equity and inclusion within the department, making plans to meet those goals, implementing action plans and measuring any outcomes. The committee is made up of faculty, staff, and graduate and undergraduate student representatives. Carlos Dávalos is one such student representative and he shared what compelled him to join the committee and his work within the J-School.
Tell us a little bit about the SJMC Inclusion Committee and why you chose to join.
The SJMC Inclusion Committee is a group of our department's community members with a keen interest in contributing to an atmosphere that rests on authentic diversity, engaged dialogue, and conscious efforts to understand different circumstances/contexts/perspectives. I chose to join because I come from a different scholarly context and thought I could maybe contribute with specific ideas and perspectives. Also, as a migrant in the United States, being part of an Inclusion Committee helps me to feel like a real member of the place where I decided to settle.
What is the focus of your research and dissertation?
I have three clear research avenues.
Using the case of radio FM during the 1990s, in my dissertation, I comparatively and historically research mass media apparatuses in Mexico and the United States. A partial objective is to understand the American influence in the structural composition of Mexican mass FM radio, as well as the design of actual radio content. The final objective is to understand the influence of FM radio on the constitution of Mexican capitalinos's identity during the 1990s.
I have also done comparative and bilingual analyses of how border newspapers in Mexico and the U.S. cover border-related violence.
A final research avenue is the current composition of a collaborative digital ethnography and qualitative project of Latin American right-wing narratives.
Why did you choose to attend UW-Madison and the J-School for your Ph.D.?
Because of the department's prestige and research diversity, plus the financial package I was offered.
What types of jobs are your looking for after graduation?
University/research jobs, music industry jobs, journalism industry jobs, curatorial jobs and maybe consultation jobs.
What are your interests and hobbies outside of the J-School?
Every single week, I try to go to concerts. I also spend a lot of time with my dogs.
Anything else about yourself that you would like to share?
I am currently hosting a music show on the platform/app with the largest paying audience in Latin America. I also independently publish books and records.