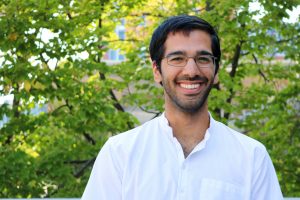 Name: Xerxes Minocher (they/them)
Expected Graduation Date: 2022
SJMC is proud to have some of the most outstanding students anywhere. From scholarship and research to their work in the community, J-Schoolers are making their mark on the world and living out the Wisconsin Idea. One such J-Schooler, Ph.D. student Xerxes Minocher, was recently awarded a Doctoral Fellowship from the Government of Canada's Social Sciences and Humanities Research Council (SSHRC). We caught up with Xerxes to hear more about them and what they hope to do after graduation.
Tell us a bit about this fellowship and what you're most excited for.
SSHRC Doctoral Fellowships are a form of material support given by the Government of Canada for graduate research that they believe has the potential to improve our understanding of social processes and humanistic concerns. It's their way of investing in future scholars, and represents an attempt to encourage more public-facing research too.
What I'm most excited for with this fellowship is the chance to concentrate on my research full-time. For the past four years, I've been balancing coursework and TA responsibilities while also developing my own case studies. While I really enjoy teaching, it's a rare opportunity to be able to focus on my own studies without other commitments. This fellowship means I can do that, and provides further financial support for me to travel to archival sites and to even hire a research assistant in the future.
What is the focus of your research and your dissertation?
My research is situated in critical studies of digital technology, which basically means I study the influence of power and structural inequalities on the development and use of digital systems. I care about calling out injustice and identifying ways of exercising democratic control over technology. My current focus is on technologies that are labeled as "artificial intelligence," studying their appearance in board game playing and the criminal-legal system.
My dissertation develops our understanding of how narratives and imaginaries (what we think AI can do) usually reflect the interests of only those who create the system. Looking into how communities respond to the presence of a game-playing AI system, and the threat of an AI policing system, I trace out ways in which the public can deploy their own expertise to shape these technologies. More specifically, I will show how one community is able to build its own AI system with crowdsourced data, and how the other enacts a right to informed refusal – saying no to an unjust technology. This all matters because it challenges the mainstream narrative and imaginaries of these AI systems, and it shows how important public engagement is for the development of future digital technologies that more fully consider the concerns of communities and the impact it may have on them.
What awards or other honors have you received?
I've been fortunate in my time here to also receive financial support from the School of Journalism & Mass Communication, and from the Holtz Center for Science & Technology Studies. Their funding helped me carry out some of the earlier studies that inform my current work.
I also received a university-wide TA award this past year, and a teaching award from the School of Journalism & Mass Communication the year before.
What types of jobs are you looking for after graduation?
Looking ahead, I'm aiming for a position that allows me to combine my research and teaching interests – ideally as a professor, or at another institution that studies the public impact of digital technologies.
Any other fun facts you'd like to share?
I've been bungee jumping at Victoria Falls, which is both thrilling and terrifying.