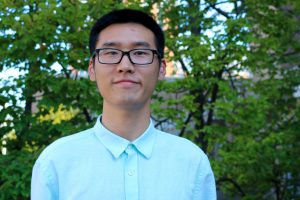 Name: Yiping Xia
Expected Graduation: 2021-2022
Twitter: @Xiayp
SJMC is proud to have some of the most outstanding students anywhere. From scholarship and research to their work in the community, J-Schoolers are making their mark on the world and living out the Wisconsin Idea. One such J-Schooler, Ph.D. student Yiping Xia, was recently awarded a Mini Fellowship from UW-Madison's Holtz Center for Science and Technology Studies. We caught up with Yiping to hear more about him and what he hopes to do after graduation.
What is the focus of your research and your dissertation?
My doctoral project is a community-based study of audience engagement with news. I ask: What are people doing with news in their daily life? Do people with different types of social networks vary in news engagement? Does it matter what communities they are primarily involved in? The project is based on fieldwork in a Chinese-Canadian community in the Toronto area. Interviews with participants are assisted by "news diaries" that they are asked to keep for three days. The interviews address key aspects of their self-identities, everyday life routines, social network characteristics, community embeddedness, as well as deep reflections on what is included in the news diaries. This work complements current scholarship on news consumption by shedding light on contexts and meaning-making that happens therein.
Although my primary area of research is news audience studies from a sociological lens, I have additional expertise in social media disinformation—in particular issues regarding identities and authenticity – as well as Ph.D. minors in Sociology and Science and Technology Studies (STS). My sprawling interests are connected through an interdisciplinary ethos and a deep interest in people's lived experience with news and media technologies. I have published articles as the first author in our field's leading journals such as Information, Communication, and Society and Journalism Practice.
What awards or other honors have you received?
I am grateful to the Holtz Center for Science and Technology Studies at UW-Madison for granting me a Top-up Fellowship in 2020, as well as a Mini Fellowship in 2021. Both awards have greatly helped my dissertation fieldwork.
What types of jobs are you looking for after graduation?
Teaching and research are my passion. I would love to work at a place, academic or not, that allows me to apply my research and analytical skills, reflect upon what I learned in graduate school, and share my knowledge with students, stakeholders, or the community.
Any other fun facts you'd like to share?
I am a perpetually heartbroken fan of Tottenham Hotspur Football Club.