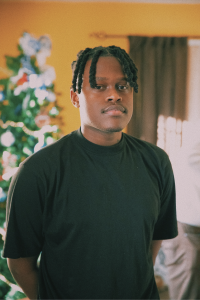 Name: Marquise Mays
Title: Independent Filmmaker and Media Scholar
Graduation Year and Degree: 2018 BA in Journalism (Strategic Communication) and Communication Arts (Radio/TV/Film)
Marquise Mays is an award-winning filmmaker and media scholar based in Milwaukee, Wisconsin. As an independent filmmaker, Marquise presents a range of access points for participation in dialogues, theoretical deliberations, and creative enterprises related to the projections of Black life on screen. Most recently, his film, The Heartland, has been selected to be a part of an emerging filmmaker series curated by John Ridley, founder of Nō Studios and Academy Award-winning screenwriter of 12 Years of Slave. We caught up with him to hear more about his work.
When it comes to this project, what makes you the most proud?
The Heartland presents a range of things that I am proud of, but what I am most proud of is that amount of pride that overflows throughout the film onto the audience. It has been gratifying to watch folks react to the film and feel empowered and proud to either be from Milwaukee or to know more about the nuanced experience of Black folk who live here. I didn't seek to make an educational survey of the city, but to give one of the most vulnerable populations here an opportunity to claim a home that often showcases a one-sided love and I'm proud to say that that was accomplished. I've been able to witness firsthand folks from Milwaukee and outside of this city, reflect and create critical conversations surrounding their connection to wherever they call "home" and that has truly been something I am truly grateful for.
What's the best advice you have for a J-School student who wants to do what you do?
My best advice is to know that no journey is the same, especially if you're interested in intersecting journalism and film. Independent filmmaking can be a challenging field, but it can become a bit easier to tackle if you continuously give back to the communities you serve and always discover ways to amplify the voices of the voiceless. In documentary filmmaking, you have to be motivated by that. Also, be prepared to be a student all over again. The learning never stops, especially in documentary filmmaking. Keep the investigative vigor taught in the J-School, but begin to challenge yourself to think more creatively on how to share stories. Storytelling is not only limited to written words. Lastly, you have to have the faith and courage to walk in your own path and trust that the experiences you come across all play a role in your collective growth as an artist and truth teller.
What is your favorite J-School memory? 
I have so many memories and moments, so I'll briefly share my top four. The first memory is with Pat Hastings, when I took her Long Form Video course. This was the course where I shot one of my first short documentaries and I was able to screen it during a segment produced by Pat on Wisconsin Public Television. Definitely knew at that moment, I'd be a filmmaker. My second memory is the consistent reminder that I was a "scholar" from Professor Mike Wagner. Little does he know, that small naming and affirmation got me through graduate school. Thirdly, would be Professor Katy Culver's exams in her Law of Mass Communication course. Whew, they were tough, but her infectious optimistic attitude always made me feel like I could do anything. And last but certainly not least, is when my former advisor, Professor Sue Robinson, would bring her notorious chili to The Black Voice meetings. If you haven't experienced her chili, I am sorry. By the way, I want to shout out my family in The Black Voice. As a former co-editor, I am incredibly proud of all of the work you all are doing.
To learn more, follow Marquise on Twitter @lifeisamays_, or visit his website marquisemays.com.