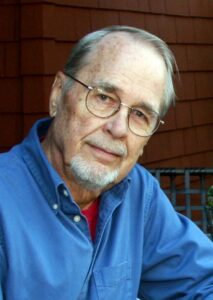 By George Hesselberg
William Burl Blankenburg, professor emeritus of the University of Wisconsin-Madison School of Journalism, died January 1, 2023, in Palo Alto, CA, at the age of 90. In his nearly 30-year academic career at the UW, Prof. Blankenburg instructed thousands of undergraduate journalism students, advised countless master's and Ph.D candidates, and published original research and books in the field of newspaper economics and the societal effects of mass media.
Professor Blankenburg's son, Andy, sent me a note that Bill had died and the first thing I thought of was that he was the only professor who ever gave me the finger.
It was the early 90s and he was jay-walking across University Avenue at the time, probably headed for lunch with one of his buddies – frequent co-conspirator Blake Kellogg comes to mind – and I was driving back to the newsroom of the Wisconsin State Journal, where I worked. I saw him, beeped a hello, but he didn't even turn around. Just put his hand behind his back and waggled the finger.
What a hoot. He was one unpredictable, smart guy. Unrelentingly dry-humored, fair to a fault, trim, a good dresser, a little vain about his goatee, 120 percent devoted to wife Pat, and able to deliver a learned opinion on many subjects, mostly to do with journalism and society and ethics and economics if you asked and always to do with photography, often if you didn't. His scholarly research was broad and often blue collar. It touched real-life journalism on thorny issues of anonymity and – bless him – the lousy pay of reporters. He gave off a slight California vibe – only natural, as his education and early adulthood found him in spots on that coast, and where he ended his days – but he was truly a South Dakotan, born in Sioux Falls. They're all born with magnets, I believe, that attract only other South Dakotans.
In the halls of the J-School – and that would include Henry Mall, starting in 1968, for the pencil and copy-paper and hot-type crowd – Blankenburg scuffed the tiles with the likes of Hawkes, Nelson, Teeter, Higbie, Hachten , Jones, Fosdick, Hoyt, Chaffee, Ragsdale, Baughman, Anderson and – my favorite – Mary Ann Yodelis Smith. And others. As Andy notes in the family obit, Bill taught thousands, including me, and mentored hundreds, many unofficially, including me, in the form of notes of encouragement or just answering the phone. He may have scowled at us all, but to good effect and not always seriously. It was hard to tell.
"He was generally anti-social," recalled Andy, fondly, explaining about how Pat "facilitated everything, including putting a bug in Dad's ear about teaching."
"So he got himself a job at Colorado State, Fort Collins, just to see if he could and wanted to teach, at my mom's instigation. He came back (to California) after a year determined to get his PhD and teach. That was what led him to Wisconsin a few years later."
"He preferred to keep people off balance with his humor," Andy remembered. "It was sometimes hard to tell if he was kidding or really mad at you. I went through adolescence straddling that fence."
Andy, who took two J-School classes from his dad, said he loved and took very seriously his work teaching journalism, and he was a sly practitioner of the art of justice.
He wasn't above giving a kid a second chance, either, though with conditions:
"If you were brave enough or dumb enough to ask him to raise or reconsider changing a grade, he would inform you that yes, but he reserved the right to raise or lower the grade based on his review of the work."
The Blankenburgs spent much social time in the Spring Green area, and their home on Bascom Place was the closest of that era's journalism academics' residences to campus. It was thus a popular starting place for the wine-and-cheese rounds, and possibly the crucible for the professor's pointed, funny parodies and satires.
"It was the house everyone stopped at on the way home," said Andy.
For those students fortunate enough to have had Bill Blankenburg as their first editor, I suspect many today would still say he was the toughest, and possibly the best.
For the thorough, well-written family obituary, please visit the Wisconsin State Journal.