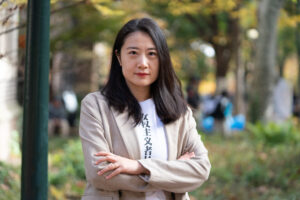 Q&A with Jing Wang, incoming assistant professor of Race, Ethnicity, and Media. Jing will be joining the School of Journalism and Mass Communication in Fall 2023.
Hometown: Ningbo, Zhejiang Province, China
I come from Zhejiang Province in Southeast China. My hometown is called Ningbo, literally meaning "calm waves." From its name, you can probably tell it's a coastal city. In fact, it's one of the most important port cities in China with a long history of maritime trade and cultural exchanges. It was one of China's first port cities open to foreign trade after the First Opium War (1840-42). It currently holds the second-largest port in China for import and export. Besides commerce and trade, Ningbo is also a multicultural city with many cultural sites and religious traditions. In my own family, my grandmothers are devout Buddhists, and my god-grandmother is a pious Christian. In retrospect, I realize this deep connection to my hometown profoundly influences me. The cosmopolitan history of Ningbo makes me very curious about the outside world from an early age. It teaches me to be both locally grounded and globally oriented.
Educational background: Ph.D in sociocultural anthropology from Rice University
As a first-generation college student, I was the first person in both of my extended families to ever attend university, let alone go abroad to pursue further study. Both of my parents, who divorced when I was little, came from rural backgrounds. I never thought one day I would ever become a university professor! However, since my teenage years, I did dream of becoming a writer, a journalist or a radio host one day. Luckily, no matter how hard life has been, my mom has been a strong supporter of my education. She firmly believes that women should pursue their dreams as much as they can. Largely thanks to her vision and hard work, what I am doing today does not really stray far away from those childhood dreams.
In terms of discipline and research topics, my educational background is interdisciplinary and transnational, crisscrossing anthropology, media and communication, global studies, and literature. I got my Ph.D in sociocultural anthropology at Rice University in Houston, with a BA degree from the English Language and Literature Department at Renmin University in Beijing. Before joining SJMC, I was a Global Perspectives on Society postdoctoral fellow at NYU Shanghai and then Senior Research Manager at the Center for Advanced Research in Global Communication at Annenberg School for Communication, University of Pennsylvania.
How did you get into your field of research?
I would say all my research revolves around two core commitments – social justice and care for individuals and communities. More specifically, I constantly ask these two central questions through various research and public engagement projects: How do socially disadvantaged communities make their own voices heard? What are the limits and potentialities of global media cultures in shaping the lives and histories of these communities?
Currently, I am working on a book manuscript tentatively titled My Home is Here: Sinophone Muslims, Media, and Everyday Life in China. It explores the history of Islamophobia in China and media practices of Sinophone Muslims to construct alternative narratives amidst the growing anti-Muslim racism around the world. This book is based on over 20 months of ethnographic fieldwork and archival research between 2014 to 2020. I cover a wide variety of media forms and contents, from print media such as novels and magazines, broadcast media like TV dramas, to digital media such as websites, social media and podcasts. Moving forward, my next project focuses on sound-making, gender, activism and race in Global South. This has been partly inspired by Fatima, a Muslim podcaster and one of my key interlocutors in the book. She showed me how powerful and yet often invisible women's voices could be in racialized, patriarchal media environments. This new project is also intimately related to my own experiences as a podcaster and an Asian feminist scholar. As I mentioned before, one of my childhood dreams was to become a radio host. I've always been fascinated with sound, through radio, loudspeakers, gramophones, film dubbing and podcasting. Having been listening to and producing many podcasts over the years, I'd like to do more research and public-oriented scholarship that amplify the voices of women of color in transnational contexts.
What attracted you to UW-Madison and the SJMC?
One of the many amazing things about SJMC is its openness to interdisciplinarity. Faculty come from diverse disciplinary backgrounds. You can find sociologists, historians, geographers, psychologists, neuroscientists, political scientists and more as well as scholars who've been trained in communication and media studies. During my campus visit, it was also obvious that a lot of collaboration is taking place among faculty and students across different schools and departments. It is not hard to imagine that junior faculty like me would find SJMC as an inclusive environment to cross-pollinate their ideas through research and teaching. This collaborative, multidiscplinary vibe really attracted me to the SJMC and UW-Madison.
Moreover, Madison makes me feel at home. My parents live close to a beautiful lake in Ningbo. And UW-Madison has one of the most beautiful campuses in North America, surrounded by lakes and aquatic life. I remember when showing photos from Madison to my mom back in China, she said the lake scenes felt so familiar and chill. I hope when my parents visit Madison one day, they would feel at home as well.
What was your first visit to campus like?
Faculty, students, and staff at SJMC really made my visit a pleasant and warm experience. For instance, Dr. McGarr picked me up from the hotel for dinner at a local restaurant, together with Dr. Cascio and Dr. Christy. We chatted about the experiences of working and living in Madison. They instantly made me feel that it would be so lucky to have such caring and fun colleagues. During the lunch time on the second day, graduate students accompanied me to the Union, a lovely space overlooking Lake Mendota. I got to learn a lot about the school, the campus, and their life and research. There was not much time to get to know other parts of the campus during the short visit, but I found all faculty, students and staff were super engaged and friendly.
What's one thing you hope students who take a class with you will come away with?
In the fall of 2023, I will teach the course JOURN 162, "Mass Media in Multicultural America." It is an introduction to the roles of different forms of media in multicultural America. In the following semesters, I'll also teach courses such as "Mass Media and Minorities" and "Race, Ethnicity, and Media." Through these classes, I'd love to work with students to rethink how media profoundly shapes our ways of understanding human differences and commonalities. And my take-away point is inspired by one of my favorite writers and activists, James Baldwin. In a 1963 article, Baldwin pointed out that "what passes for identity in America is a series of myths about one's heroic ancestors." I wish students could walk away from my classes with two things at the same time – one is deconstructive and the other is constructive. One is to see how certain myths have been constructed and mediated; the other is to find their own heroic ancestors and unique ways of expression. I hope the lessons from the classroom resonate with their own family histories, life experiences, and emotions in everyday life.
How do you feel your work relates to the Wisconsin Idea?
I see my work resonates with UW-Madison's deep commitment to both local communities and global work. It is my firm belief that research needs to serve the communities, engage with the public and contribute to social justice, equity and diversity from both local and global perspectives. As scholars and students, we do not learn to be critical thinkers for criticism's sake. We learn to become more conscientious, responsible citizens. We strive to make positive changes in society. We search for better ways to give back to communities that share their resources and care with us in the first place.
For instance, the driving force behind my current book project is all the generosity and care I've received from the Sinophone Muslim communities over the past seven to eight years. The resilience of local Muslim communities in a highly controlled media environment in China is truly inspiring. They taught me how to see my own sociocultural upbringing in a different way. They made me realize there is much more to learn before making any facile judgment based on one's gender, class, religion, race, ethnicity, or nationality. There is no way I could possibly repay their kindness and generosity. But what I can do, as a scholar, is to let a wider world hear their stories, through both academic and publicly engaged scholarship. In the future, I look forward to searching for more learning opportunities to connect students at UW-Madison with communities and institutions in other parts of the world, particularly in the Global South.
What's something interesting about your area of expertise you can share that will make us sound smarter at parties?
There is a joke I'd love to share. It goes like this. If you are not happy with society, go and study sociology. If you are not happy with yourself, study psychology. If you are not happy with either society or yourself, anthropology could be a good place to start. Now perhaps I can improvise and add: if you want to study all these issues mentioned above in the digital era, try communication!
I think both anthropological and communication training is about making us better listeners. Such training also helps us cultivate a sense of critical self-reflection. I'm not sure this could make us sound smarter at parties. But it often works magic if you want to discover yourself, make real friends, and understand what is going on in the world.
What do you enjoy doing when you are not working?
I love wandering around. In French, there is a term called flâneur, meaning someone who strolls around without a clear purpose. It is a fun way to discover one's surroundings. During those walks, I can listen to music and podcast or just let my thoughts flow. I also really like walking with my husband in the evening everyday. He's just such a great walking/working partner in life. For relaxation, I enjoy reading manga, novels, and poetry, watching anime and TV dramas, practicing yoga, and playing tennis.