Andrew McDonnell, the PA Librarian in the UW-Madison School of Journalism and Mass Communication's Journalism Reading Room, accepted a tenure-track position at the University of Kentucky as a Digital Archivist Librarian.
Most JRR librarians stay in their position for one year. McDonnell, however, has held the position for two years, allowing him to make deeper connections with students, staff and faculty.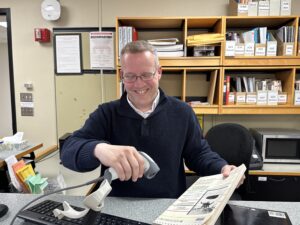 "I like the daily interactions and helping people," McDonnell said. "I'll miss the people I work with here, too — all the faculty members and students."
By increasing awareness of the JRR's resources, creating a coffee station for the Vilas community and keeping the room's many plants healthy, McDonnell's efforts nearly doubled the use of the Reading Room after students returned from virtual learning.
During his time at UW-Madison, McDonnell said his role in the JRR allowed him to take on other educational opportunities on campus.
"Having this assistantship through the journalism department in particular is like a really unique opportunity. I don't think there's a better PA-ship for somebody that's looking to work in an academic library on campus," McDonnell said. "I'm just really grateful for the opportunity, and I'm hopeful that they'll be able to keep that going long into the future."
In his new role, McDonnell will oversee the University of Kentucky's digital assets with a special focus on materials that were "born digital," or were never in print. Some of his main goals will be capturing websites, social media pages and digital preservation.
McDonnell is looking forward to continued professional development in his new position. "It's the sort of job that will require me to continue to be a student for pretty much the rest of my career because it's always going to be changing," McDonnell said.
Before working for the J-School, McDonnell worked as an English teacher and the Director of Communications for a boarding school in Wisconsin. After organizing the school's archives and exploring job descriptions for librarians, McDonnell decided to attend UW-Madison for a master's degree in Library and Information sciences with a focus in Archives in a Digital Age.
"I've really enjoyed my classwork here," McDonnell said. "I've enjoyed working at the UW Archives and the Wisconsin Center for Film and Theater Research at the Wisconsin Historical Society, and that kind of confirmed that I would like to do that for a career."